This article is more than 1 year old
Samsung Ativ Book 9 Lite: 13.3-inch slimline notebook with a secret
Quad-core coyness and a so-so battery life
Review It seems an odd paradox that the more a company tries to hide something, the more publicity it attracts. Apple certainly uses this notion to good effect, knowing that it can't keep those secrets indefinitely, but also knowing that when it eventually lifts its kimono, what's new in the garden customarily causes a commotion among the brand faithful.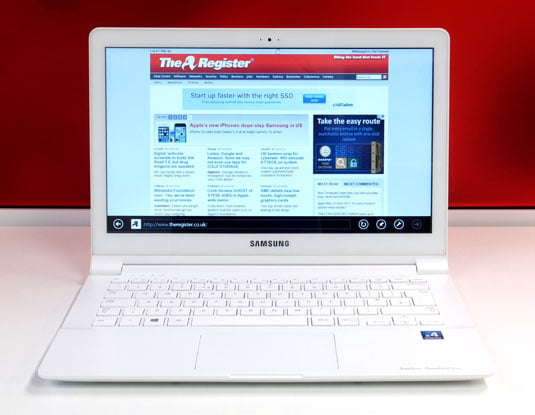 Hidden shallows: Samsung's Ativ Book 9 Lite
Apple is not alone in this scripted sensationalism, but when it comes to what's inside a product, hiding some of the basics any mildly curious buyer might be interested in knowing usually suggests that what is being hidden certainly doesn't have a wow factor about it.
So here I am with Samsung's slim, attractive and could-be-cheaper Ativ Book 9 Lite. At a glance, it could easily be mistaken for an Ultrabook, but at £500, this 13.3-inch touchscreen Windows 8 notebook is hiding something that its Lite moniker hints at.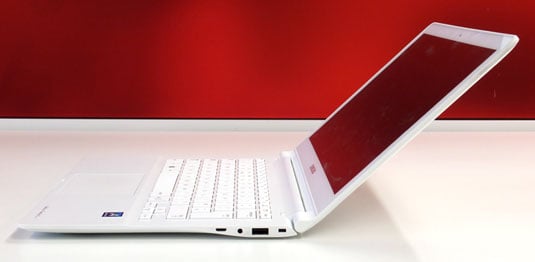 Delightfully laid back
OK, so at 1.44kg, it could be lighter, but that's not it. It measures up as quite respectable really – Samsung has been busy with the tape measure to ensure the Ativ Book 9 Lite is fractionally smaller than a MacBook Air at 324 x 224 x 16.9mm – yes, it's 0.1mm thinner than the 13-inch Air (324 x 224 x 17mm).
There's nothing particularly unusual about the 4GB of DDR3 1066MHz RAM (albeit slightly slow) or the 128GB SSD. Perhaps it is a bit "Lite" on RAM, but Apple wouldn't give you any more in a standard configuration.
Moving on, there's an AMD Radeon HD 8250 GPU in there and quad-core processor that apparently goes up to 1.4GHz. Well that's informative. Even the "x4 Quad Core" sticker on the palm rest doesn't want to flag up the fact that there's no Intel Inside.
The AMD GPU does rather give the game away though. So there's an AMD chipset in here, what's so bad about that? The company makes some decent low-power, low-cost chippery that keeps the Lite end of the market very well fed.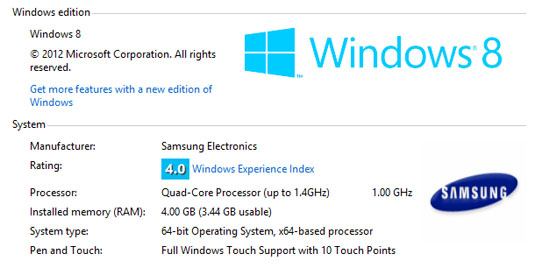 Windows 8's basic system info doesn't reveal much
Maybe the issue isn't so much to do with what AMD is making, but more to do with what Samsung is doing with it. If you nose around the Ativ Lite with anything from System Settings, to CPU-Z to PCMark 8, you'll find no specific reference to the chip inside.
There are clues though, and the biggest one is the graphics chip, as currently the HD 8250 appears on only one AMD APU (accelerated processing unit). It's part of its Elite Mobility APU platform – formerly codenamed Temash – and unless there's something very tricky going on, it's the A6-1450 APU. The four cores run at 1GHz, peaking at 1.4GHz in Turbo mode.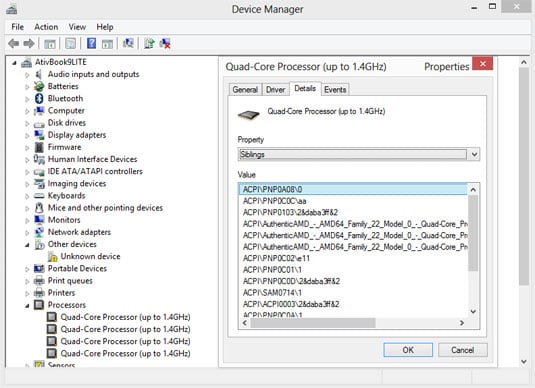 The Device Manager could say more too, even the Properties info is non-descript
Click for a larger image
According to AMD, this chip is "designed for touch small form-factor notebooks, tablets, and hybrids 13 inches and below". So is Samsung testing AMD's latest to extremes regarding suitability? Interestingly Acer has the A6-1450 installed on its 11.6-inch Aspire V5-122P model and it's not shy about it either.
Samsung's coyness aside, the Ativ Book 9 Lite didn't strike me as crippled, even if it is treading a fine line between tablet tech and notebook needs. How that Acer performs with its HDD remains to be seen, but being SSD-equipped, the Samsung consistently managed booting to login in 8 seconds and to the desktop in 12 seconds. For general use it, didn't complain much either, just occasional pauses to load apps but nothing especially troublesome.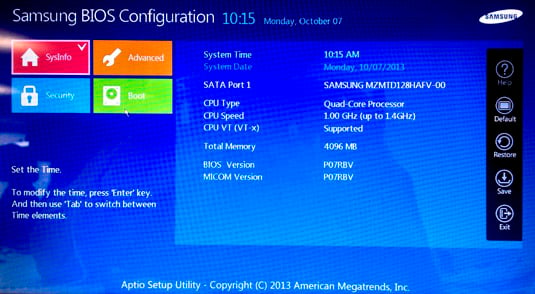 No clues in the BIOS either – click for a larger image
The only significant weirdness I experienced was with rendering a PDF that left multiple trails when scrolling. But this could easily have been bad PDF authoring or just the file size, as it didn't occur on any other PDFs I viewed. A couple of things worthy of note are that this AMD setup does run the 64-bit version of Windows 8, unlike the current crop of Atom tablets I've tested of late, which stay rooted in 32-bit mode – apparently it's a driver issue for Intel's babies that Microsoft hasn't fully addressed yet.