This article is more than 1 year old
Samsung Ativ Book 9 Lite: 13.3-inch slimline notebook with a secret
Quad-core coyness and a so-so battery life
The missing sync
Samsung bundles a few of its own apps for user convenience in getting updates, navigating the device and messing about with images. One of them looked rather hopeful as a DropBox option, but it turns out that Samsung's HomeSync Lite is more like having a NAS with remote access for Galaxy devices rather than a SkyDrive or similar.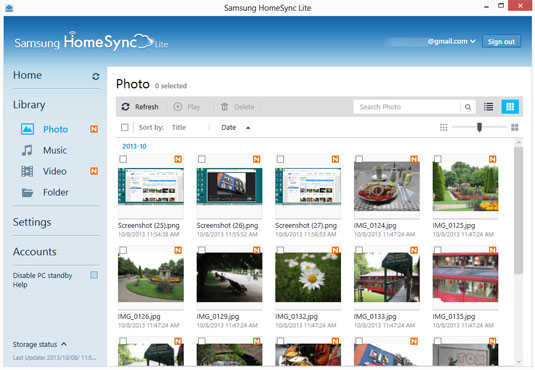 HomeSync Lite desktop app enables sharing of local content to a selection of Samsung devices
Click for a larger image
In short, you need to have the Ativ Book 9 Lite powered up to share content with compatible Samsung Galaxy devices, as you're hosting content on the notebook, not in a cloud storage area. That said, Samsung devices think the HomeSync Lite PC is a personal cloud.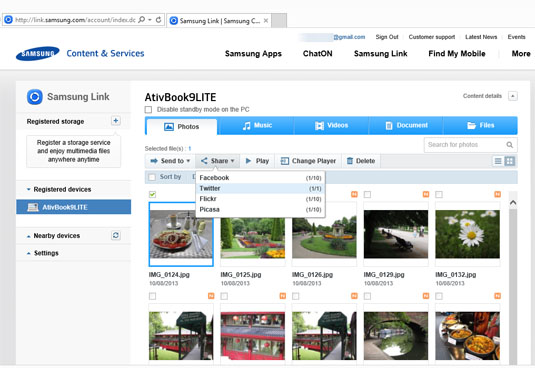 Link enables access from a browser on registered devices, hence I couldn't view this content from a Mac
Click for a larger image
I tried it out with a Galaxy Note II running the HomeSync app which has a pretty basic front end of content folders listing files or thumbnails. I was able to view images and run 1080p movies, both involving a bit of a wait, with the latter really taking its time – around 30 seconds – if you advanced the movie by dragging the timeline.
I was surprised that deleting files on the Ativ was possible from the Galaxy Note, but thankfully not the SkyDrive content that also showed up after a fashion. Getting images from the Galaxy to the Ativ was a bit more involved, relying on the Samsung Link app, which also has a web interface option on the PC so mobile device content can be perused.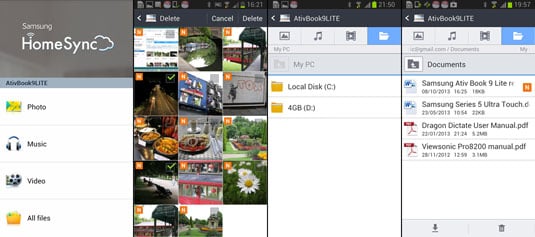 Ativ HomeSync Lite content viewed from a Samsung Galaxy Note II. From left to right: main content listing, deleting using image thumbnails, external devices can show up in All Files area, various documents listed (Click for a larger image)
This fragmentation of functionality is potentially confusing though and both HomSync and Link would play much better with their respective features integrated into one app. Time will tell if that comes to pass.
In everyday use, the dual-cell 30Whr battery seemed to hold up reasonably well, but it's no marathon runner. I watched a streamed 90-minute movie on a full-HD monitor followed by 3.5 hours of Wi-Fi radio – the latter eventually blacking out the screen. Time was, when we'd have applauded squeezing five hours out of a laptop, but by today's standards, this sort of duration doesn't even raise an eyebrow.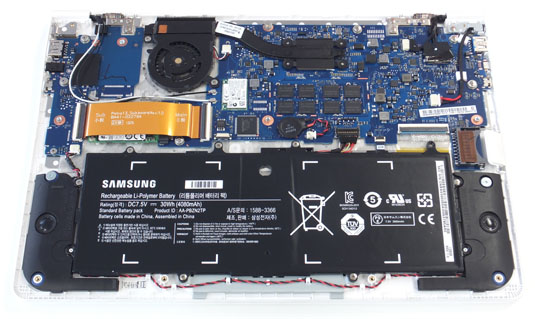 The innards reveal a 4080mAh battery, but nothing significant regarding the CPU. I thought better of prising off the heat sink – click for a larger image.
Indeed, Samsung doesn't quote battery life which is telling, and for more random use, the five hours I managed would be ambitious, especially as one reseller site quotes four hours, which was backed up to the minute by PCMark 8's battery-life test mode.
The performance benchmark results with PCMark 8 were rather modest to say the least, clocking up 1389 in Home mode and 2378 in Work mode. Take the SSD away, and these figures could soon turn out to be quite alarming – I wonder how that HDD-equipped Acer Aspire V5-122P gets on?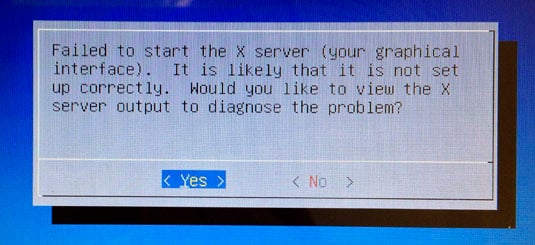 Linux Mint 15 reports a graphics problem which prevents the graphical desktop from loading
Talking of how things get on, tests with Linux were encouraging and disappointing in equal measure. I wonder how many commentards will have read this far before posting "Does it run Linux?", but I digress.
I tried Ubuntu and Mint and both booted up into a command line interface. Mint went the extra mile suggesting there were problems with the graphics drivers, which is no doubt the cause, as there probably aren't any tweaks for the new Radeon HD 8250 yet. I'm sure it's only a matter of time.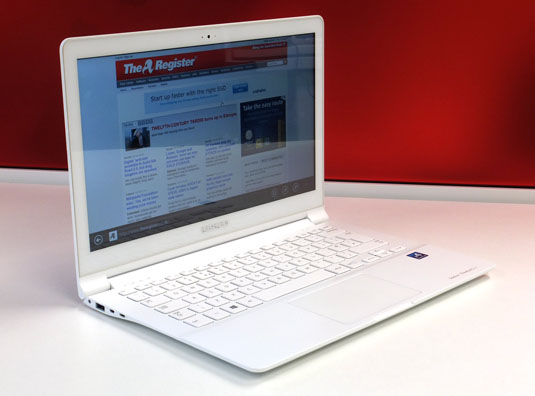 Likeable and easily luggable, but not at this price
The Reg Verdict
I started off liking the Samsung Ativ Book 9 Lite. Its plastic casing didn't bother me as I appreciated its light weight and slim form factor, carrying it around a lot and rarely running out of juice. The graphics performance was also pleasing, on the whole.
Even the vague suggestion that this laptop could be running a tablet chip didn't appear to be an encumbrance. Yes, I was prepared to be quite forgiving as I spent most of my time with it presuming it cost £400, which even then seemed a bit on the high side. It was only later I discovered its £500 pricetag, which rather took the shine off things for me. Surely, if you're touting a product as a Lite model, it really should be light on the wallet too – and especially so if you've something to hide. ®

Samsung Ativ Book 9 Lite: 13.3-inch slimline notebook with a secret
Slimline 13.3-inch touchscreen notebook featuring AMD's latest A6 quad-core APU, 2.4GHz Wi-Fi, Bluetooth 4, 4GB of RAM and a 128GB SSD.