Boffins spot LONE PLANET roaming interstellar void
Orbiting nothing, wandering homeless, 80 light years away
---
It's just a drifter in a big, cold universe, but it's causing excitement among the astronomers that spotted it: 80 light years away, there's a young planet six times the size of Jupiter, that isn't orbiting any star.
While its loneliness makes the planet, PSO J318.5-22, unique in astronomical discoveries to date, it's also a boon for studying exoplanets. As the University of Hawaii's Institute of Astronomy explains, it's hard to study exoplanets that are orbiting stars, because of the noise of their hosts.
As Dr Niall Deacon of Germany's Max Planck Institute says: "PSO J318.5-22 is not orbiting a star so it will be much easier for us to study. It is going to provide a wonderful view into the inner workings of gas-giant planets like Jupiter shortly after their birth."
The planet, found in the Beta Pictoris group, is also surprisingly young, believed to have formed just 12 million years ago.
PSO J318.5-22 was spotted in a survey, by Hawaii's Pan-STARRS 1 (PS-1) wide-field survey telescope, that was seeking brown dwarf stars.
The researchers, led by Dr Michael Lui of the University of Hawaii at Manoa, mined the 4,000 TB dataset generated by PS-1 looking for brown dwarf signatures. These objects are very faint and quite red, but the researchers say the new planet showed up as far redder than any brown dwarf seen.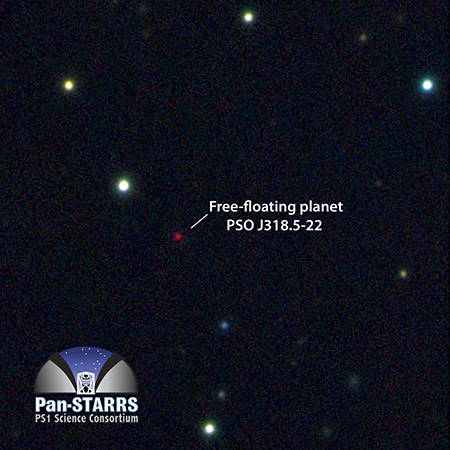 This 125 arcsecond-wide image shows the lonely planet, in the direction
of Capricornius. Image: PAN-Starrs 1, N Metcalfe.
Following the PS1 observation, the group cross-checked their discovery using other telescopes on Mauna Kea, including NASA's Infrared Telescope Facility and the Gemini North Telescope. The signatures found in these observations suggest that PSO J318.5-22 is young and low mass.
Its distance from Earth was measured after two years' observations by the Canada-France-Hawaii telescope. The researchers' paper, to be published in The Astrophysical Journal, is in pre-press at Arxiv. ®