HDS folks are full of glee after beating EMC and NetApp in the SPEC filer benchmark.
The company ran 2- and 4-node all-flash HUS VM configurations in the SPECsfs2008 NFS benchmark. The scores were:
HDS all-flash HUS VM 4 x HNAS 4100 node - 607,647 Ops/sec and 0.89 msecs overall response time (ORT)
HDS all-flash HUS VM 2 x HNAS 4100 node - 208,648 Ops/sec and 0.59 msecs ORT
The HUS VM had 32 x 1.6TB flash modules (HAF FMDs in HDS parlance) and the 4-node HUS VM had 64 x 1.6TB modules.
The chart below doesn't look that impressive. However, if we look at the node counts, things start to look more interesting.
HDS would have us understand that the 2-node config had the "lowest ever published overall response time on Spec.org NFS testing." The 4-node result had "more throughput than [the] VNX8000 that had 500+ SSDs and 8 X-blades" at 607,647 vs 580796 Ops/sec. It also had just 4 file systems versus the VNX 8000's 21.
The HDS 4-node job was also faster than a VNX 5700 using a VG8 gateway and 4 VNX arrays, which scored 497,623 Ops/sec.
The 4-node HUS VM config was faster than the NetApp FAS6240 8-node config (512,677 Ops/sec - not in the chart).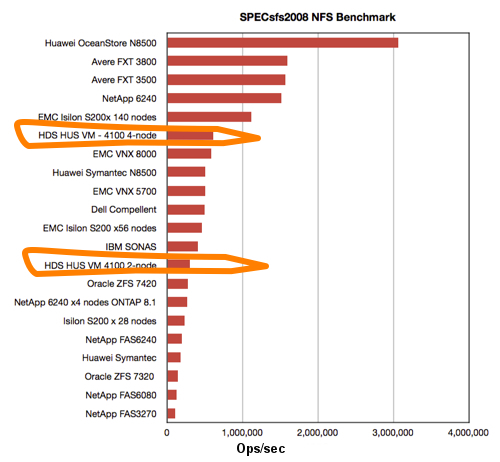 SPECSfs2008 NFS results with HDS HUS VM duo highlighted.
An HDS insider said "#Speed2Lead - LOL" referring to the twitter tag of EMC's recent VNX range update launch.
The 2-node benchmark details are here and the 4-node details here. ®