Video thrilled the radio star: Tracking the history of magnetic tape
Part three... That's entertainment
---
Reel-time playback
At the NARTB show, the Ampex Mark IV video recorder was hailed as a game changer and everybody in TV wanted one. On 30 November 1956 it made history when a video recording was used on-air for the first time from CBS Television City, Hollywood to rebroadcast Douglas Edwards with the News to West Coast audiences hours after the original live broadcast from New York City.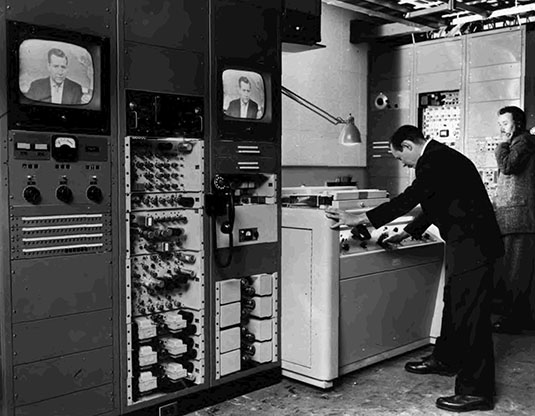 The Doug Edwards show relayed on an Ampex recorder
The production video machines became known Quadruplex or just Quad tape recorders, describing the four-head array on the drum and the remodelled Mark IV was marketed as the VR-1000, although 16 hand-built early models were known as the VRX-1000. RCA gave Ampex a helping hand to produce colour models following the VR-1000, and that good turn was rewarded with Ampex enabling RCA to make its recorders Quad tape compatible.
The Ampex VR-1000 cost $45,000 and the 2-inch tapes, which now ran at 15IPS (and later 7.5IPS) enabled an hour of recording and cost $300 apiece. The company coined the phrase "Video Tape" and RCA chose "Television Tape" but it was the term videotape that stuck.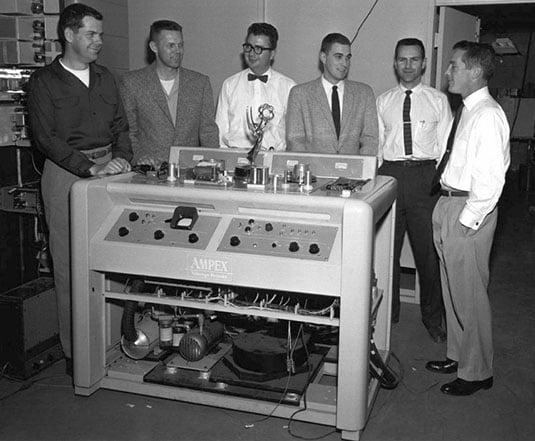 Emmy Technical Achievement Award winners for the Ampex team with VR1000 video recorder
Left to right: Charles Anderson, Shelby Henderson, Alex Maxey, Ray Dolby, Fred Pfost and Charles Ginsburg
Engineering talent aside, Ampex would soon have another card in its favour as its VR-1000 machines went into production.
In 1956, Ampex set about investing in US tape manufacturer ORRadio (see box section below), putting in a 25 per cent stake with a view to buying the company if all went well. Indeed, Ampex did take ownership of ORRadio in 1959 after first enforcing more robust management under John Leslie. Under the Ampex Magnetic Tape Company banner, the Opelika facility remained focused on consumer tape production, while a second plant was set up at the firm's base in Redwood City, California dedicated to manufacturing professional media.
As Ampex continued to make advances in audio and video, its capacity to refine the essential magnetic media that made it all possible would support its tape-based products for the next 36 years. In 1995 Ampex spun off its recording media division, which became known as Quantegy. A decade later, Quantegy closed the doors to its Opelika manufacturing plant and filed for bankruptcy, a casualty of the rise in disk-based desktop audio and video systems.
Attempts to the revive the company under new ownership were fêted and in 2007 equipment was dismantled or sold as part of the bankruptcy clearance. This has slowed progress for yet another revival but @Quantegyonline Twitter feed suggests GP9 1/2-inch and 2-inch tape is once again in production in small numbers.
Transistor switch
The notion of video recording on magnetic tape hadn't escaped notice of Japan either. The country was now entering a post-war "Miracle Growth" period that allowed access to US technology as part of a security settlement. While America remained keen to protect its investment in valve (vacuum tube) tech and was slow to change, the Japanese were on a roll with transistor production.
These developments would eventually help the shrinking of the VTR from something like a commercial deep freezer to a more family friendly suitcase size, but there was still some way to go.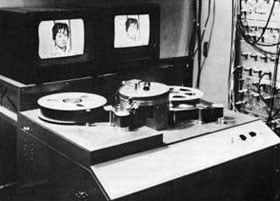 Toshiba's VTR-1 helical scan recorder: note the reel heights
Since 1954, Toshiba had been working on its rotary head video recorder. Its VTR-0 prototype from 1956 used 2-inch tape at 15IPS, and utilised a single head.
Significantly, it was a helical scan design – a diagonal tracking approach which is explained in part two – with an almost complete tape wrap around the head, which being 2-inch wide wasn't ideal. It also meant that one reel was mounted higher than the other so the tape could twist around the head.
In September 1959, the company announced its experimental VTR-1, which worked out at around 1/10th price of the quad-head Ampex model. Yet given compatibility issues with the already established Quadruplex system, it failed to gain traction in broadcast facilities and Toshiba began working with Ampex in 1964 to produce machines to the American manufacturer's spec. The staggered reel, helical scan design appears to have made it to VR-1500, Ampex's "domestic" video recorder.
However, Toshiba did go on to make even cheaper versions of its own design for industrial use. Its helical scan approach soon formed the basis of domestic video recorders that would follow. Rather inconveniently, the Toshiba Museum is closed until 2014, however, the wonderfully absorbing LabGuy's World provides an overview of the tech with some images including the colour model from 1962 and Toshiba's fixed head design system from 1979.
Sony, whose interest had been piqued by Toshiba's earlier efforts, had already established a relationship with Ampex by 1960. In exchange for Sony's transistor knowhow, Ampex shared its VTR patents with the Japanese firm. Sony's SV-201 was a two-head helical scan model running at 7IPS. Albeit the world's first transistorised VTR, but the format didn't appeal to broadcast and was too big for home use.
Extraordinary renditions
Jack Mullin wasn't the only American to wander back from Germany with an AEG recorder and a stack of tapes after WWII. John Herbert Orr's story is a somewhat darker tale as he was in the US Army Psychological Warfare Division and his job was to not only grab this equipment, but the German forces personnel operating it.
A likely story that gets repeated everywhere, and is too good to miss here, is that American president Dwight D Eisenhower decided he should record a message to be played to the German people. The Psychological Warfare Division was actively broadcasting propaganda from within Germany using captured facilities and Dwight's message was going to be the icing on the cake.
However, El Presidente's voice was recorded on a re-used reel of tape from Germany – they hadn't erased the previous recording properly. Apparently, the result was a duet with Hitler, who was also audible in places. As far as psychological warfare goes, that broadcast probably did a pretty good job of disorientating the German listeners. The incident led to Eisenhower banning the re-use of German tape and ordering Major Orr to set about producing fresh tape in the US using captured German scientists to put together a manufacturing plant.
Online tales abound that Orr had contacted Dr Karl Pfleumer, whoever he was. Fritz Pfleumer was the big name behind magnetic tape who died in 1945 and whose work is explored extensively in part one. Decades later, one newspaper, reports fancifully that when Major Orr was injured in a car accident, Dr "Karl" regularly visited him in hospital and handed him an envelope containing the formula for magnetic tape and its production. Back in action, it's claimed Major Orr even managed to knock out samples in two weeks from Germany.
Following the war, John Orr put what he'd learned from the German scientists to work and set up his own business manufacturing magnetic tape in Opelika, Alabama. As one of only four US concerns producing tape, ORRadio Industries – along with 3M, Audio Devices and Reeves Soundcraft – were asked by John Leslie to send samples to Ampex for evaluation. One of Leslie's first tasks at Ampex was to build an 8-track audio recorder, ably assisted by Ray Dolby, then only 17.
Leslie was keen to identify a supplier able to deliver consistent tape quality and told the four companies that he would share his findings with them. As it turned out, it was ORRadio's Irish Brand tape that performed the best. ORRadio had developed a post-coating process called FerroSheen which was intended to deliver improved tape-to-head contact. It seems ORRadio had something there, as its Irish brand delivered the most consistent output during repeated record/playback comparative tests.