Video thrilled the radio star: Tracking the history of magnetic tape
Part three... That's entertainment
---
How to make friends and influence people
When it comes to formats, Sony has quite a respectable track record – the company even set up its own tape-manufacturing plant in 1950 to support whatever it came up with. There will always be winners and losers though. Remember the Elcaset? No? Me neither. More here, if you're keen.
To digress for a moment, the Elcaset was Sony's mega cassette hi-fi format from 1976. Legend has it that the company had so many unsold Elcasets that it hired a container ship, loaded it up with this ill-fated format and then dumped the lot in the sea. Having your own tape plant can have disadvantages if over-optimistic forecasts for supply fail to match demand.
John Cleese does a turn for those "Awfully nice Sony people". The SL-C7 Betamax kit here dates back to 1979
Sony's Betamax failed in the consumer market for a couple of reasons. The first was its one-hour recording time – the capacity challenge was always going to bite videocassette format pioneers – and the second had political overtones of more than one hue.
The story goes that seven months ahead of the launch of Betamax, the Sony chairman Akio Morita showed off the company's new consumer video recorder to the top brass from JVC, RCA and Matsushita (Panasonic). It was presented as a fait accompli which ruffled a few feathers.
Beta blockers
Rather than joining Sony to promote the Betamax consumer video format, the execs felt sidelined and went about producing a rival system. Sony had shot itself in the foot with this technology briefing, as it had involved these potential partners too late and had also given away some of its ideas in the process.
Apparently, the Japanese Ministry of International Trade and Industry (MITI) had a hand in things too in a bid to standardise a video format back in 1974. Sony's work on the unreleased Betamax format was enough to convince MITI that it should become the standard, and could be made under license by other manufacturers.
JVC had been busy developing the Video Home System (VHS) and played Matsushita off against Sony in order to get the company to adopt VHS.
JVC was touting VHS as an open standard and once Matsushita was in, others such as Hitachi, Mitsubishi and Sharp followed.
Consequently, MITI was forced to withdraw its initiative for an industry standard consumer video cassette, and the format war began in earnest.
Shall we talk about porn? While there's no hard evidence per se, there are plenty of references to Betamax not succeeding due to a lack of bare flesh on the format. The recording length is quoted as a reason by some, the cheaper VHS tapes by others and there are even stories that Sony was anti-porn.
Yet the idea that Sony could effectively veto the use of its recorders for porn reproduction seems questionable. Porn certainly pumped the growth of the internet, so it seems as good a reason as any that its appearance on one format over another would give the adult entertainer an easy ride.
Sony didn't give up on Betamax though as it migrated to become its professional recording format and was even used on its Digital Betacams – the physical cassette remained the same, only the tape formulation was different and, of course, the head array.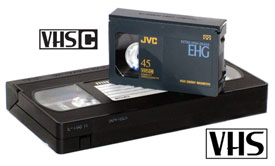 Adapter enclosures for VHS-C tapes existed to convert
them into full-size VHS for playback on home systems
In the 1980s compact consumer formats were born with JVC's VHS-C arriving in 1982 and Sony's Video8 appearing in 1985 with a smaller cassette size. Like Betamax, the Video8 format would later go digital but featuring backwards compatibility.
As Philips had done with DCC by supporting analogue audio cassettes, Digital8 equipment could play analogue Video8 cassettes. What I found even more impressive when I borrowed one was that the analogue Video8 content would be digitised and sent out of the iLink (FireWire) port, which I put to good use making digital transfers to a MiniDV recorder, the latter becoming the most popular digital videotape for consumer and semi-professional use.
Tape baking recipes
Traditionally, magnetic tape has comprised several layers: the actual film (substrate), the magnetic coating (pigment) and in most cases a back coat. As described in
part one
, Pfleumer devised a caramel-like suspension of magnetic particles that would bind the pigment to the tape. For conventional formulations, this method has endured – albeit refined and further enhanced by the addition of lubricants within the binder/particle suspension.
As tape ages, these various ingredients degrade in different ways. Sometimes playing an old tape will shed the metal oxide particles onto the head and transport components. Other scenarios include the tape's oxide coating sticking to the back of the layer as it wraps around on the spool, so that it becomes stripped when the tape is unwound.
Since the 1960s, the actual tape substrate has gravitated to a polyester base which has proved to be a good deal more stable over time than the pigment binders, which are the real problem here. The binding agent pretty much determines the shelf life of magnetic tape.
Binders can deteriorate in a number of ways, one of the most common problem being caused by the absorption of water over time. This is the cause of sticky-tape symptoms that shed the magnetic coating and clogs video heads (sticky shed). The tape will also cling to audio heads (stick slip), that can result in a screeching noise from the media as a consequence.
If old tape exhibits these characteristics it can be made playable by baking it. In 1993, Ampex even patented the method, which isn't as hot as it sounds. A domestic oven would produce a disastrous meltdown, as we're talking about warming the tape over time to drive out the moisture. Ampex suggests a temperature of 54˚C (130˚F) for up to 16 hours.
Those in the know vary the times and temperatures according to tape width, so may 1/2-inch tape could be ready in as little as two hours with a 2-inch tape taking anything between four and eight hours.
Professional drying cabinets exist for this purpose and if you are inclined to experiment, just be sure you're not using a Fahrenheit figure on a centigrade heater. There's even an alternative hairdryer method.
Acetate-based tape has its own problems which can lead to vinegar syndrome which is a cause of rapid deterioration. It is a problem that affects old cine films too, and methods to deal with it are similar for magnetic tape and are described in detail here [PDF].
One other problem is the loss of tape lubricant and this can be restored by relubrication, which is bit more involved than it sounds. If you add too much lubricant it can obstruct head-to-tape contact and the playback signal will suffer as a result. A summary of the various issues is highlighted here.
Just getting tape off a reel is a science in itself and and all this before you even get to any alignment or format issues. As for wow and flutter, Celemony has developed the amazing Capstan signal processing software to deal with that.