What's missing
Nothing's perfect. The biggest omission is block-level replication. You can buy any two Sentinels and use DFSR to shuffle files back and forth between the two units. This turns your little RAID 5 into an effective RAID 51.
It is an effective and functional technology; I've done this "hobo RAID 51" for over six years in dozens of SMBs using DFSR in every iteration from Server 2003 R2 through to Server 2012. It will handle tens of millions of files and hundreds of terabytes of data (though initial replication on that is…depressing.)
What DFSR won't do is replicate VHDs or VMDKs when they are being used as centralised storage for VMs. For that, you need Starwind.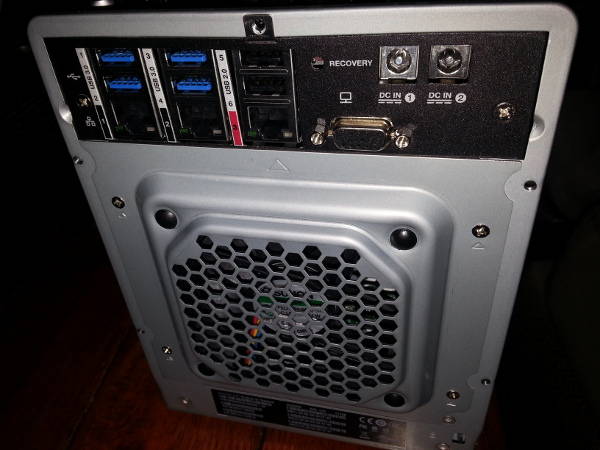 Ports. Many.
Starwind's iSCSI was included in the last Sentinel I reviewed. With Server 2012 R2 including a proven iSCSI target without requiring you to go download it, I guess it was felt that Starwind was unnecessary.
I deeply disagree.
DFSR will do for device redundancy on a filer. Cloud backups will do for disaster recovery, especially if you use something like Asigra and back up your clients to your own datacenter. It just doesn't cut the mustard when you want to use the thing for block storage.
Competition makes me happy
The new WD Sentinels are scrappy. I like 'em. When it comes to tossing a file server into a small business that will actually hit that filer hard I am going to have to give WD serious consideration.
If I'm really lucky WD will start reaching out to Valley startups and start moving beyond Windows to address the growing use of virtualisation in the SMB world. Maybe a Nexenta-based Sentinel? Or working with a host-based caching company to jump the IOPS barrier?
The possibilities are endless, and WD seems open to exploring them. They've got good hardware engineers that actually understand things like thermal design considerations and that isn't to be overlooked. For better or worse, Western Digital are more than a disk peddler now. ®
[1] While I used Unitrends for testing (they're who I'm familiar with), I should probably point out Arkeia, WD's recent backup acquisition. A little birdy informed me that there will be a lot of integration between the Sentinel and the Arkeia lines in the future.
[2] I'd say sorry, WD, but you knew I was going to do this before you sent the thing to me.
[3] This is a modification of the procedures found on a Keith Mayer TechNet blog.