This article is more than 1 year old
Turkish TV presenter canned for flashing too much cleavage
'Unacceptable' amount of jub, thunders killjoy government mouthpiece
Turkey has taken a great step forward towards not joining the European Union after government intervention saw an asset-rich female TV presenter sacked for baring too much of her decolletage.
Gözde Kansu apparently copped a verbal shoeing from a ruling Justice and Development (AKP) party spokesman after baring her cleavage – but no more than that – on a television show called Veliaht ("Crown Prince").
Youtube video of Goedze Kansu prancing around stage wearing a cleavage-revealing dress
AKP mouthpiece Hüseyin Çelik didn't name Kansu, but slammed someone's apparel on the show as "extreme", adding: "We don't intervene against anyone, but this is too much. It is unacceptable."
With the target of the AKP's wrath quickly identitifed, Veliaht producers first said the prancing presenter might not appear again due to a "busy schedule". They later confirmed, however, that she'd been shown the door.
Çelik attempted to backtrack on Twitter, where he defended: "I never named a show or a person. It was the media who alleged the names."
We at the El Reg Bootnotes secretariat suspect the outrage may seriously hinder Turkey's attempts to enjoy the EU's warm embrace.
According to the ever-reliable Wikipedia, as a vital step in gaining membership the country must align itself with the 35 chapters of EU law, known on the street as the "acquis communautaire". As you can see here, it isn't doing all that well.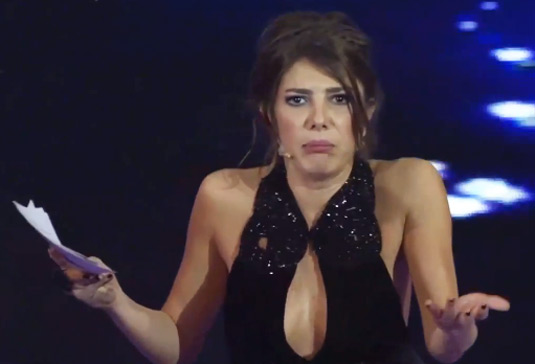 Gözde Kansu: Surely this is legitimate free movement of goods under Acquis Chapter 1?
Interestingly, though, it's described as "generally aligned with the acquis" on the matter of "Free Movement of Goods". We'd suggest that given the AKP's attitude towards the free movement of Ms Kansu's goods, the current position is in reality "totally incompatible with acquis". ®