Twitter revamps Android tablet app – but ONLY for Samsung 'slabs
Back luck fanbois and, er, the other kinds of slabber
---
Twitter has unveiled a new version of its mobile app designed specifically for Android devices with larger screen - but for now only Samsung fondlers will be able to use it.
The company announced the app on Thursday as an exclusive for owners of the 2014 edition of the Samsung Galaxy Note 10.1, saying it worked with the South Korean firm to add features not available in its earlier mobile offerings.
Among these is a new, two-column view for when the tablet is held in landscape mode, where tweets are listed in one column and then expand into the other column to show photos, videos, and article previews.
Or, if users feel that's too much Twitter for one display, they can optionally display just the one column and use the rest of the screen to run a second app simultaneously alongside Twitter, such as a web browser or a streaming media player.
The new app includes a redesigned widget for fondleslab home screens that automatically delivers a customizable mix of tweets and breaking country-specific news, sports, photos, and music.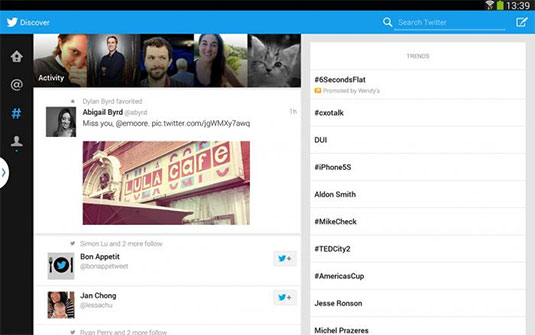 You'll be able to do more with Twitter on Android tablets, but only Samsung ones for now
In addition owners of tablets equipped with Samsung's S-Pen stylus – which include the 2014 Galaxy Note 10.1, but not necessarily all of the devices Twitter's new app will eventually run on – users are given a simple graphical widget that lets them create hand-drawn doodles or deface images from their device's photo gallery, then share them via Twitter.
Twitter made the new app available for the Galaxy Note 10.1 on Thursday, saying it would be available on other Samsung tablets soon.
Android tablets from other manufacturers will get versions of the app for their own kit "by the end of the year," the company said, though it didn't specify which ones. There was no word on whether similar features will make their way into the Twitter app for iPad. ®