Reboot the formula: F1 and FIFA tweaked for another year
Christmas is a-coming... and so are the franchise sequels
Game Theory FIFA and F1 in the same review packed column – why, it must be nearly Christmas! Elsewhere we go dungeon crawling with Dragon's Crown and get soaked through to the skin in Rain.
FIFA 14
Another year, another FIFA. The arrival of FIFA 14 was so predictable that I'm not quite sure why EA doesn't simply announce FIFA 15, 16 and 17 now and spare us all the bother.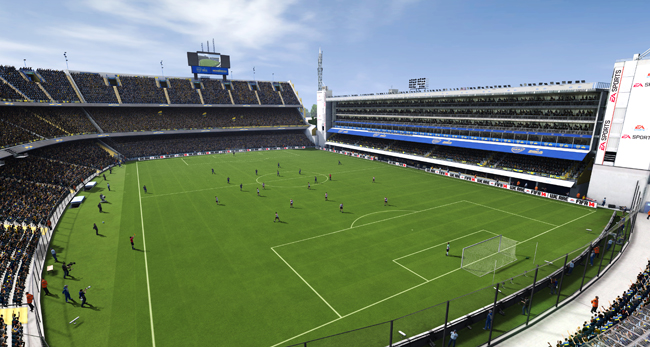 Ballpark figures
Unlike last year's FIFA 13 – which added wholly noticeable improvements to defending, player physics and team AI – FIFA 14 can't particularly even claim any tangible enhancements.
The addition of extra striker animations to allow for off-balance shooting and a greater range of volleys are about the most noticeable of an artificially bloated crib sheet of supposed enhancements.
That's not to say FIFA 14 is a poor game, though – quite the opposite, in fact. It still offers authentic brilliance throughout. The leaden first touch of Wayne Rooney and Yaya Toure's ability to run with the ball like an express train to name but two.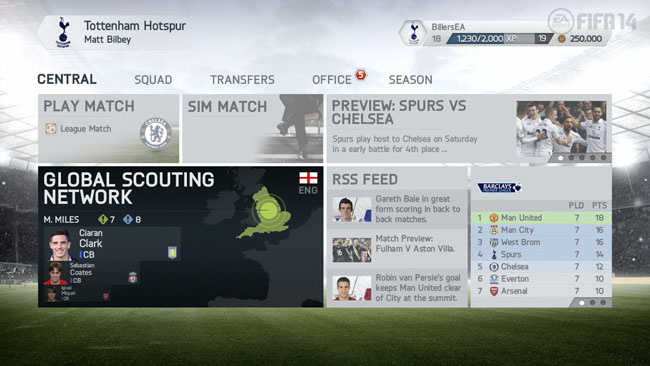 Plot your path to the top
But my overarching – and no doubt unmerited – feeling is that most of the changes seen here could have been administered to FIFA 13 via a software update. Even Ultimate Team mode feels largely the same despite a few surface changes to how you create your team's formation.
FIFA 14 also fails to address my major bugbears of the series: the often laughably tangential commentary, for example, and the flawed penalty taking. Then there's the way the ball will sometimes slowly roll past a teammate without him reacting – ever the source of much teeth-grinding in my household.
That said it does still offer a fine game of football and is bursting with content, from passing and shooting challenges, to guiding a lowly player through to world stardom before eventually settling him into management.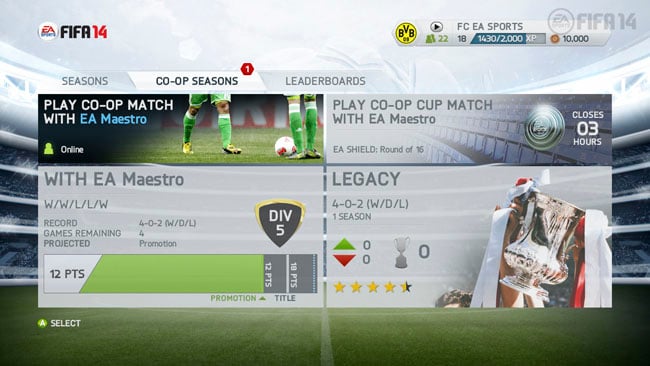 Co-opt your pals for co-op play
For now, rather like a manager who has seen great success only to have a couple of less triumphant seasons – Arsene Wenger, anyone? – FIFA has earned the benefit of the doubt.
Even if the cynical gamer might suggest that EA is patiently waiting for the new generation of consoles and just couldn't be bothered to usher in anything new – not even a shinier paint job – in advance.

Rain
You know those days when it's chucking it down outside and you've barely seen any daylight through the blanket of thick cloud? Meteorology contriving to make you feel utterly depressed? That's what playing Rain was like for me, despite the best efforts of Sony.
Rain takes place in a city soaked by a continuous downpour, on a night when a mysterious circus has pulled into town – and with it an inundation of invisible monsters. They're all seemingly on the hunt for an invisible girl, and soon so will you, in the guise of a similarly see-through boy.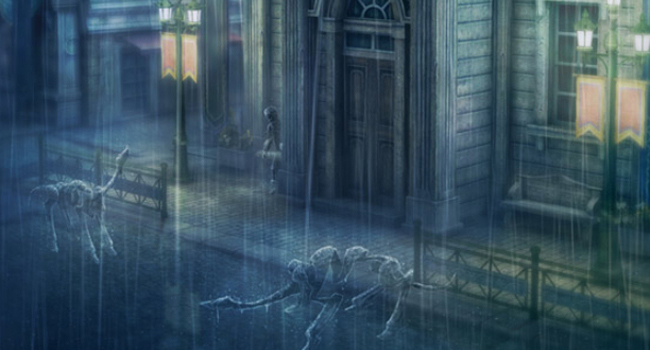 Transparently terrifying
The premise brings Ico, Limbo and even Journey immediately to mind, but Rain fails to deliver the invention and their sheer joy. The reasons why are many, the incessant rain itself being one of the primary reasons for my personal malaise.
The gimmick of monsters being revealed by raindrops, but becoming invisible when under cover, proves irksome too. Particularly when having to guide our boy wonder through fiend-infested alleyways without being able to see anything but the dust kicked up by his moving feet.
I'm sure the game's director would argue the merits of such a design. But when you accidentally walk too close to a monster and get torn apart, you'll join me in wishing our hero was visible to the player all the time. Even if he's revealed solely by a golden glow or some such.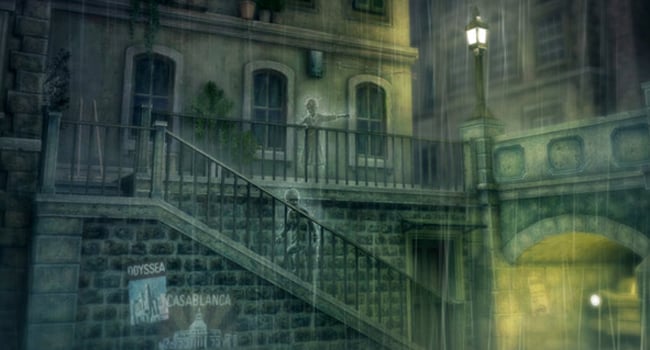 Dripper
Rain is a curious game. It should be another game held up as the pinnacle of the age-old 'games versus art' debate. Instead it feels more like a counterfeit that looks the part at times, but ultimately lacks the flair of the true masterpiece it's out to emulate.