Android and then some
So is all this TouchWiz malarkey a good or bad thing? No doubt Samsung would say it is adding value to Android by installing a lot of different services and features, but you could also argue that the Note 3, like the Galaxy S4, is jammed to the gills with so much extra functionality that it makes it difficult to get to grips with it all.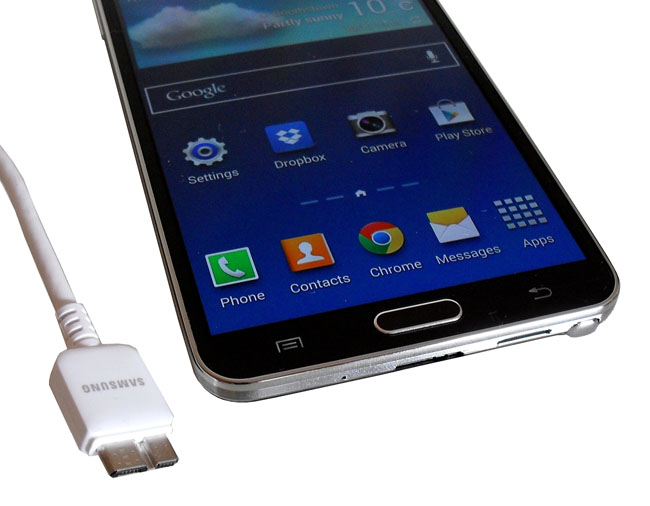 Now with USB 3.0
After all, do you really need Samsung's S Planner when the basic Google Android calendar app is, in my opinion, better? Or two web browsers? Or S Translate and S Voice – both of which I think lack the polish of Google Translate and Android's built-in voice command. On the plus side, the Samsung media playback apps are impressive if not quite up to the standard of Sony's.
The two aces in the Note 3's hole though are its sheer power and its camera.
The 2.3GHz quad-core Qualcomm Snapdragon 800 chipset is brutally fast – on paper faster even than the 2.2GHz, 2GB RAM component fitted to the Ultra (though Note 3 didn't beat the Ultra in either the AnTuTu benchmark or SunSpider browser tests by a particularly large margin). Assuming, of course, that in the light of recent allegations of benchmark rigging – which Samsung denies – you can trust the numbers generated by either device. Regardless, this is still one handset that won't be regarded as underpowered at the end of a 24-month contract.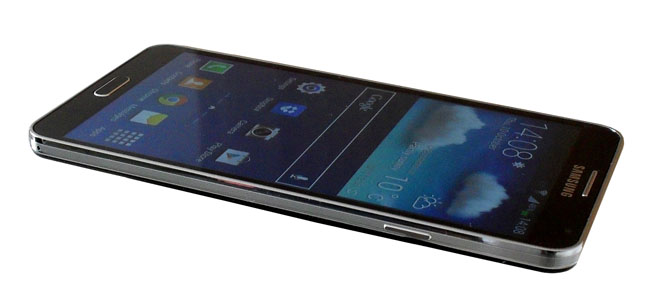 The chrome-look side band is a bit naff
The 13MP camera is capable of shooting 4128 x 3096 stills in its native 4:3 aspect ratio, is accompanied by a powerful LED and has all the usual software additions like dual shot, Panorama, Rich Tone – that's HDR in the Samsung-speak – touch focus, the option to attach a sound file to an image and so forth. The Note 3's camera sensor derives from the Galaxy S4's and reproduces the phone's impressive image quality.
The Note 3 isn't in the Lumia 1020 or Xperia Z1 league, but the pictures it takes still display good levels of detail, low noise and excellent contrast. The camera can also record 4K – 3840 x 2160 in old money – video which though a tad pointless at the moment is potentially a handy feature for later. The resultant MP4 files are on the large size: a 10-second clip took up 72MB. Just as well then that the Note 3 can be had in a 64GB flavour and can take Micro SD cards up to the same capacity.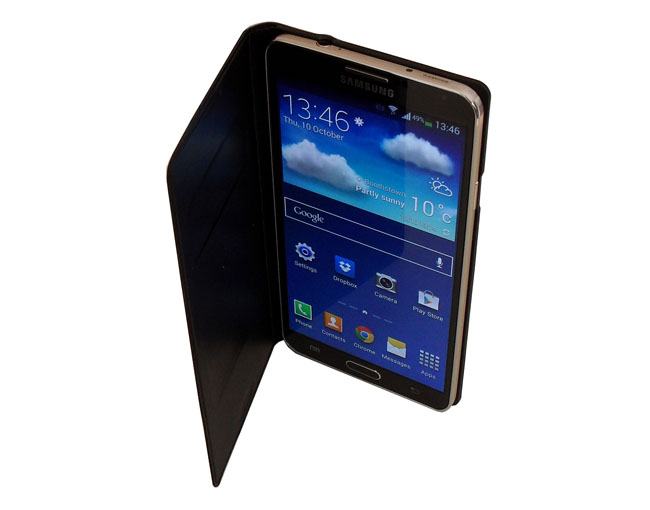 Note 3 plus flip case
All in all, the Note 3's camera is a country mile ahead of the Ultra's 8MP snapper. Want to bet a second-generation Ultra with the Xperia Z1's camera will hove into view early in 2014?
The Note 3's 3200mAh removable battery kept a 1080p video looping for seven hours and 45 minutes, which, while more than acceptable, was more than an hour less than than Z Ultra managed – despite its slightly smaller battery.
The connectivity suite includes 802.11ac dual-band Wi-Fi, a 4G/LTE radio, Bluetooth 4.0, an NFC chip, an IR transmitter and a micro USB port that supports On-The-Go hosting and MHL media streaming. It even makes a pretty good phone call and has a decent, if slightly raucous at higher volumes, loudspeaker.
The Reg Verdict
Impressive though it undoubtedly is, the new Note 3 doesn't eclipse the Sony Xperia Z Ultra. The Ultra's screen is larger and more natural in hue; Sony's tweaked version of Android is a darned sight less confusing than Samsung's; the bespoke Sony media apps are better if only by a small margin; and the battery life seemed better. And of course it's waterproof.
But the Note 3 runs a more modern version of Android out of the box, has much the better camera, a stylus, and a very bright and vivid screen. Its battery is removable. Which is the better of the two is a truly tough call. I would be more than happy with either. But if all you want is a whopping display, you could save yourself £250 and buy a Mega 6.3 instead. ®

Samsung Galaxy Note 3: Once, twice, three times - a Very Large Phone™
Phone-cum-tablet with a large, 5.7-inch OLED screen, impressive connectivity and a very fine camera.
Price:
£594 unlocked and SIM-free RRP