Hypersonic MEGA METEOR pulled from lake, then Russians drop it
Doh! Salvaged 570kg star hunk breaks the scales
---
Pic A chunk of the Chelyabinsk meteorite, which wounded more than 1,000 people when it exploded over Russia in February, has been found and raised from its resting place 20 metres under in a lake.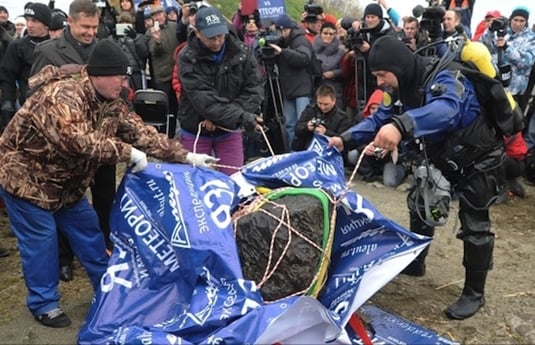 The Chelyabinsk meteorite in one piece, but not for long
It took Russian divers a month to successfully raise the rock and get it to land for weighing. Unfortunately the five-foot-long meteor fragment crushed the weighing scale upon which it had been placed and promptly broke into three separate pieces, but the remains weigh 570kg, Voice of Russia reports.
"Some peculiarities characteristic of stone meteorites prove that it's a fragment of the Chelyabinsk meteorite. In all probability, it will rank among the top ten largest meteorites ever found," said Sergei Zamozdra, professor of the Chelyabinsk State University.
The Chelyabinsk meteorite exploded over Lake Chebarkul and fragments punched their way through the ice layer on top. Scientists (and those looking to profit) have been busy diving all summer to try and find pieces of the estimated 10,000-ton rock.
More than a dozen stones have been raised but only four or five have been judged fragments of the one true rock. The largest confirmed sample was 11kg and the first data on its composition [PDF] was published on Friday by Mikhail Marov, deputy head of the planetary research for the Russian Academy of Sciences.
"An analysis of Chelyabinsk meteorite fragments shows that its age practically coincides with that of the solar system, 4.56 billion years. In fact, we possess a rock from the times of genesis," Marov said during the Day of Space Science hosted by the Academy Space Research Institute.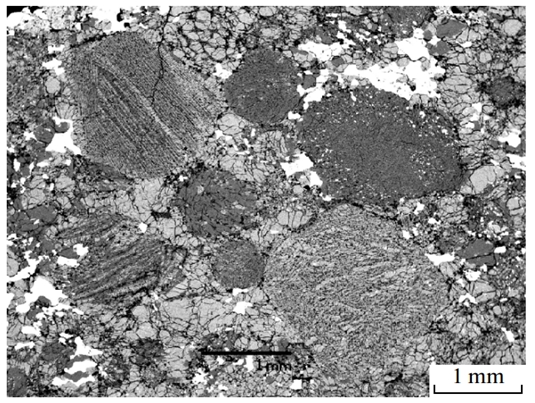 "My god, it's full of stones!"
The sample has been classified an LL5 chondrite with very low levels of iron and is made up of silica, nickel and cobalt compounds. Samples so far are also interspersed with shards of ringwoodite glass and coated in carbon compounds, which formed due to friction with the Earth's atmosphere.
The source of the original meteorite is thought to have been a much larger object that fractured between 20,000 and 40,000 years ago in the Apollo asteroid belt, a band of rubble that the Earth travels through periodically. There may be another 20 chunks left over and floating around.
On February 15 it intercepted the Earth at a shallow angle and was traveling at 54,000km/h before it exploded about 23km off the ground due to the heat and pressure of reentry. Its passage through the sky and subsequent explosion left at least 1,000 people hurt, primarily from flying pieces of glass.
The chunks will now be sent off for further analysis and should provide more insight into the composition of the rock itself. But one Russian loony man is protesting, saying the rock is a holy object from God that is broadcasting secret messages.
"The new package contains new scientific knowledge and a new code of moral norms and laws that will give humans a better life. What matters is that from now on spiritual and scientific knowledge will be a single whole," Andrey Breyv, the head of the recently-founded Church of the Chelyabinsk Meteorite, told Voice of Russia.
Breyv said he had spent his life devoting extra-sensory capabilities and was one of only 12 people in the world – dubbed Lictors - with the necessary skills to decode and translate the messages being broadcast from the rock so that they can be exposed to the rest of us. He claims he has about 200 followers on social networking sites for his church, which he was inspired to form this summer after chatting to God.
"Our main demand," Breyv said, "is that the 'tablets' be lifted with care and handed over to our priests for further work. We want to build a temple where they could be stored and where any believer could approach the message not fearing to damage its information field."
He looks set for disappointment – scientists have carted away the new samples to the laboratory analysis and Breyv will have to find some other way of hearing voices in his head. ®