Blocks and Files Data backup company Acronis Storage is going to enable cloud storage service providers to undercut Amazon S3 storage pricing, according to its CEO.
When the storage desk at El Reg expressed doubt, and even disbelief, based in part on Amazon's price-cutting history, Serguei Beloussov, Acronis' chief exec, said we didn't know what we were talking about.
According to Beloussov, Amazon won't become a cloud storage monopoly because medium-sized businesses will want to buy stuff from regional managed-services providers that can customise their offerings as required – which is a level of service Amazon can't match, we're told.
When our disbelief persisted the discussion became animated – nay, positively spirited. Beloussov said he would send over some Total Cost of Ownership numbers to back up his point, which he has done.
First up is Beloussov's 100TB configuration example: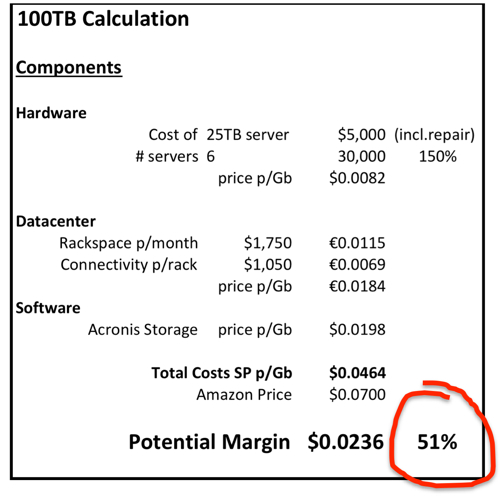 100TB Acronis Storage vs Amazon S3 example
Secondly is the Acronis boss' 5PB configuration: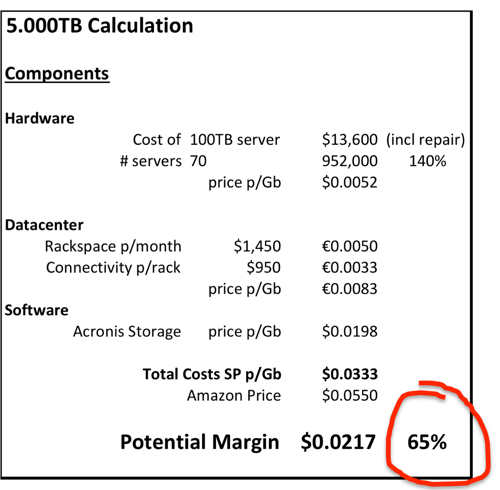 5PB Acronis Storage vs Amazon S3 example
The bigger the storage config, the bigger the margin and the more possible it is – if Beloussov's numbers are right – for an managed-services provider to undercut the mighty Amazon.
Who do you believe? There's El Reg's storage desk, which has written thousands of articles covering this weird and wonderful industry, or there's Beloussov, who has started up two half-billion dollar companies and is a multimillionaire off the back of it.
Hmm... put like that, it's an open-and-shut case, really. We're off to a bar to drown our sorrows. ®