Anki, the racing toy maker clipped together by a band of robotics boffins, will begin selling its iDevice-controlled slot car set Anki Drive in just over five days' time.
It has apparently taken them six years to create this 21st Century version of that old favourite, Scalextric.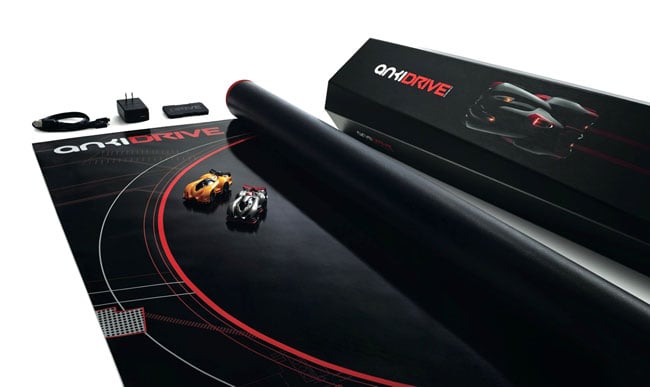 In pole position for release on 23 October is the AnkiDrive Starter Kit, which comprises a 2.6m x 1.1m track mat, a couple of futuristic, Speedracer-style racing car "characters" and gadgets to charge their built-in batteries. The set is set to retail in the US for $200 (£125).
Two more cars will be sold separately, and it's not hard to foresee plenty more appearing in due course to encourage 10-year-olds to nag their parents for more. Extra cars cost $69 (£43) a pop.
Naturally in the era of the smartphone old-style hand controllers are out, replaced by an iPhone or iPod Touch.
Anki's offering is by no means the first toy controlled by smartphone. The Sphero has been out for a while, Parrott's AR.drone quadcopter longer still, and there are plenty of those wee, easily broken, fly-for-a-minute-or-two helicopters out there that are app-controlled.
Anki's unique selling points, then, are its intelligent software and the videogame quality it brings to the track. Cars, for example, have weapons and kit to shove aside their competitors – all of these are implemented virtually. One car's lights flash, and the AnkiDrive's "artificial intellegence" software adjusts the behaviour of the car in front automatically. Over time, the vehicles "learn" to compete with their rivals more effectively. "We've programmed those cars to become characters that interact with each other and evolve over time," says co-founder Mark Palatucci on Anki's website.
Anki reckons the physicality of real toy cars will bring a joy to players no mere digital representation can. Equally, the virtual component that app control brings means the toy taps straight into kids' videogame experience.
Car location data comes from hidden codes imprinted on the track, read by a camera in each vehicle. Cars communicate with controllers over Bluetooth.
Post-race points are assigned to players. Points can be spent on virtual upgrades – shields, tractor beams, gravity beams, that kind of thing – which are stored on flash in the cars themselves to make it easier for nippers to take their prize racers around to chums' houses for races.
Anki will initially pitch AnkiDrive at youngsters in the US. There's no word yet on UK availability. ®
Similar topics