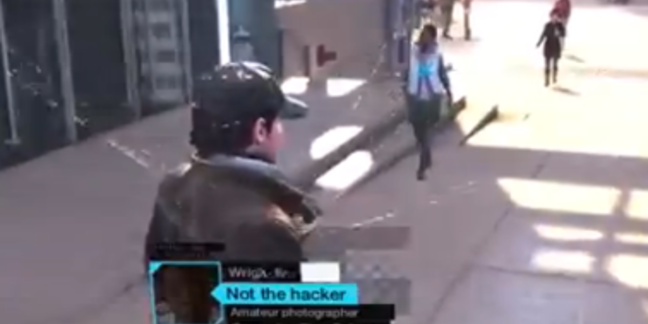 Spooks working at one of Europe's largest defence contractors have warned that the delayed Ubisoft game Watch Dogs could create a whole new generation of hackers.
Cyber-security experts at Thales, a French multinational defence firm, are nervous that kids will be "turned on" to hacking by the new game. However, they may have been given a brief reprieve, because its release has now been delayed, sparking consternation across the internet.
Watch Dogs is an open world stealth game which allows the player to hack various computer systems in a city and reconfigure machines to do their bidding.
However, Kevin Wood, cyber centre technical lead at Thales, told The Reg that his staff were terrified by the possibility that hacking was about to go mainstream.
He said: "The tagline of this game is 'hacking is our weapon'. You can buy it for £40 and then hack the infrastructure of a city state to achieve your aims.
"It will raise awareness of hacking. I'm not saying players will leave the game able to breach serious defences, but it's a game, so hacking might become a game too."
Wood was speaking at the launch of Thales' (which rhymes with chalice) new Cyber Integration and Innovation Centre, in a building staff have dubbed "The Hanging Gardens of Basingstoke".
Cyber warriors based in this London satellite town have built up a malware zoo made up of more than 6,000 pieces of malicious software. They will use these caged monsters to test clients' system security by simulating cyber attacks.
Staff at this £2m centre have no doubt that the threat they face is growing every day.
Sam Keayes, vice president for security and consulting at Thales UK, added: "We are worried about the democratisation of hacking more generally, particularly as the number of tools that are freely downloadable, useable and configurable is growing. The industralisation of these tools and the coming online of hacking games means that you increase the pool of people who are interested in hacking."
Shares in Ubisoft slumped by 26 per cent after it announced that the release of Watch Dogs had been delayed. It was due to be released at the same time as the new Playstation 4. ®
Sponsored: Ransomware has gone nuclear