Pic Boffins have uncovered the earliest known complete central nervous system in a never-before-described water-spider-like creature that prowled the ocean 520 MILLION years ago.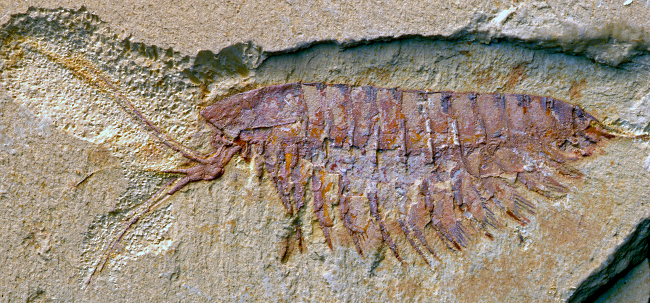 The massively clawed beast is an example of a megacheiran, an extinct group of creatures related to modern day chelicerates, which include spiders and scorpions.
This marine spider provides evidence that the ancestors of scorpions and spiders branched off from other arthropods, including insects, crustaceans and millipedes, more than half a billion years ago.
"We now know that the megacheirans had central nervous systems very similar to today's horseshoe crabs and scorpions," said Nick Strausfeld, the senior author of the study and a Regents' Professor in the University of Arizona's Department of Neuroscience.
"This means the ancestors of spiders and their kin lived side by side with the ancestors of crustaceans in the Lower Cambrian."
Strausfeld and his co-author Greg Edgecombe from the Natural History Museum in London, were able to ID the 3cm-long creature unearthed from the Chengjiang formation near Kunming in southwest China as a type of Alalcomenaeus. Scuttling critters from this extinct group had long segmented bodies with dozens of legs allowing them to swim, crawl or both. All of the genus also had long, scissorlike feelers attached to their head, most likely used to grasp things or for sensory purposes.
These feelers had already led some palaeontologists to guess that the megacheirans were related to chelicerates, because they have an "elbow joint" like the fangs of a spider or scorpion.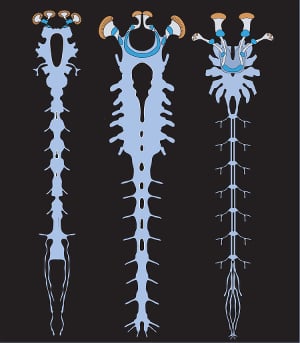 Illustration of the nervous systems of the Alalcomenaeus
fossil (left), a larval horseshoe crab (middle) and a scorpion (right).
Credit: N. Strausfeld/UA
"However, this wasn't rock solid because others lined up the great appendage with either a segment in front of spider fangs or one segment behind them," Edgecombe said.
"We have now managed to add direct evidence from which segment the brain sends nerves into the great appendage. It's the second one, the same as in the fangs, or chelicerae. For the first time we can analyse how the segments of these fossil arthropods line up with each other the same way as we do with living species – using their nervous systems."
The researchers used different imaging techniques, including CT scans, to map the nervous system, taking advantage of iron deposits that had ended up in the system during fossilisation. With advanced techniques and the CT, the team were able to get what looked like a negative X-ray of the fossil, giving details of the creatures spiderlike brain.
The same team discovered a fossilised brain in a Fuxianhuia protensa, also 520 million years old, that was similar to the brains of modern crustaceans in a study last year.
"Our new find is exciting because it shows that mandibulates (to which crustaceans belong) and chelicerates were already present as two distinct evolutionary trajectories 520 million years ago, which means their common ancestor must have existed much deeper in time," Strausfeld said.
"We expect to find fossils of animals that have persisted from more ancient times, and I'm hopeful we will one day find the ancestral type of both the mandibulate and chelicerate nervous system ground patterns. They had to come from somewhere. Now the search is on."
The full study, "Chelicerate neural ground pattern in a Cambrian great appendage arthropod", was published in Nature. ®