Analysis Microsoft today unleashed Windows 8.1, the version to soothe folks ruffled by the touchscreen-friendly user interface.
Crucially, the software giant really didn't want to make this particular upgrade: it's effectively stepped back from the original Windows 8 blueprint.
At 4am Pacific time (7am Eastern, 12 noon UK time), Microsoft made Windows 8.1 available for download.
If you've already got Windows 8 or Windows RT, you get the update for free from the Windows Store. Windows 8.1 will be available on new systems and for sale as a boxed product tomorrow, 18 October. Not all apps in the Windows Store will be ready for 8.1 today but, Microsoft said, they will be ready by Friday.
The version available from today includes updates, performance tweaks and assorted bug fixes pushed out since a build of Windows 8.1 was given to computer manufacturers in August, according to Mary Jo Foley.
The staggered release comes five months after Microsoft revealed it was doing a U-turn on "key elements" of Windows 8.
That U-turn transpired to be the ability to boot to the classic Windows desktop rather than simply forcing everyone into the new touchscreen-driven Metro UI – as well as the return of a Start button. The Start screen that tried to replace it is now an application launcher.
On the application design side, things have become more flexible as users can now resize and layer apps, whereas before they were set to a fixed size and apps had to be locked side-by-side.
Despite these concessions, and no matter how many flips and twists Microsoft makes, the omens for Windows 8.1 remain bleak.
The sales slump on PCs hit its sixth straight quarter of decline last month. On PCs – machines with mouse and keyboard – Gartner and IDC both found sales of PCs in Q3 2013 (which ended in September) remained in the rough, down 8.6 per cent and 7.1 per cent to 80.28 million and 81.61 million respectively.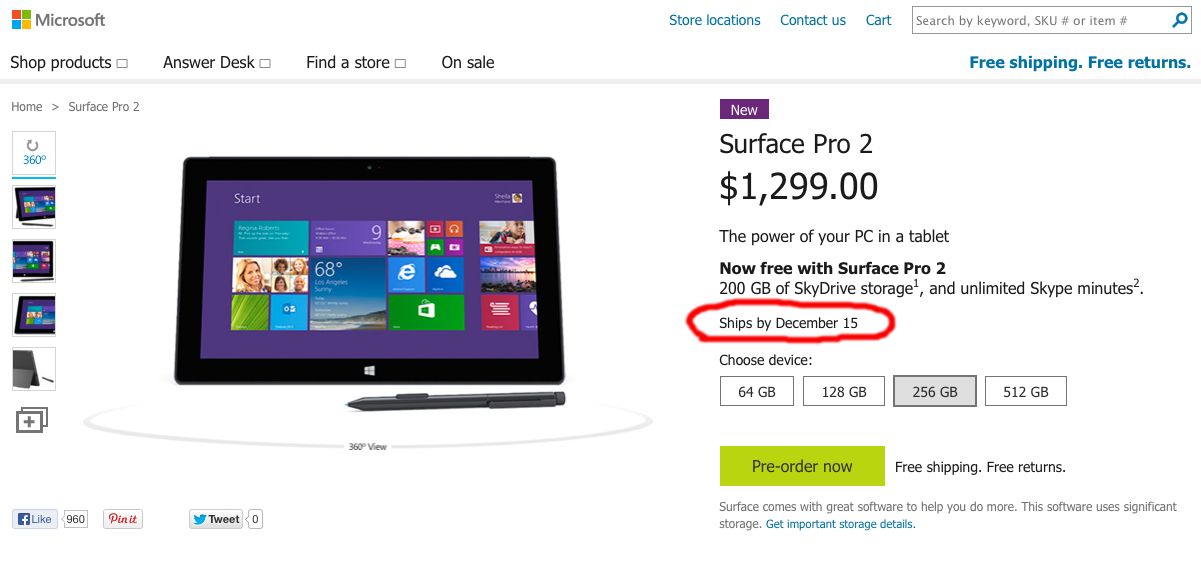 Microsoft's online store will ship Surface Pro 2's two months late
Microsoft last year said Windows 8 would help save PC sales for Christmas – it didn't, and it was one of the worst trading periods on record.
IDC sees no relief in the Christmas shopping quarter, even with Windows 8.1, which is tough for Microsoft because that's traditionally the time Redmond and PC makers have rolled in barrels of cash as shoppers hit the spending trail.
Sales of tablets are expected to surpass those of PCs for the first time this Christmas period – 84.1 million versus 83.1 million. The long-term prognosis is grim for Windows 8.1 on PCs: IDC reckoned on tablets beating PCs on an annual basis by the end of 2015.
And it's not like it's just the iPad that'll rake in the money this Christmas: Android is the one to watch. This month has seen two new Android devices for the Blighty market – one from UK retailer Tesco and one from catalogue shopping house Argos.
There's no guarantee these tablets will live – far from it. As IDC said in September, it expects a new round of "device cannibalisation" to kick in – this time with large screen (five-inch plus) smart phone eating the small screen (7- to 8-inch) tablet market.
But will be the interest of consumers in these devices and others – including things such as the Kindle and, yes, the iPad – that may pick the the pockets of Microsoft and PC companies flogging Windows 8.1 PCs.
Microsoft does have its own tablet, the Surface. Next Tuesday sees the planned launch of Microsoft's second take on these: a second, rebranded ARM-powered Surface RT now Surface 2 and the Intel based Surface Pro 2. These will run Windows 8.1, too.
Growth in tablets is a silver lining for Microsoft's Surface, right? Wrong.
Keeping taking the tablets
Microsoft is moving with the flat-footedness that's got it into this mess in the first place and which might see the Surface slab outnumbered and outrun by Android.
Just like a year ago, Microsoft isn't making nearly enough machines or getting them into the channel in sufficient volume or time to make a meaningful impact on mass-market sales.
The Reg is told of 2,000 units shipped to the UK. Microsoft's own website in the US doesn't even have enough machines – the 512GB and 256GB Surface Pro 2s will only be available two months after next week's launch, on 15 December. Resellers are used to selling in volumes of tens of thousands a month.
Microsoft has been crowing about being sold out, but it's an empty boast made by people who think we are as lacking in recall and steeped in credulity as they.
The shock is Microsoft had 12 months to design and produce these updated machines and get them into the hands of potential partners.
All the while, meanwhile, more Android devices are coming from new and unexpected makers outside the traditional OEM and ODM base.
What's interesting is those punting Android are exploiting a model that Microsoft created: making an operating system and licensing it to a broad range of hardware-makers using different – but compatible – components and specs. This is the model now being used to pump out Android in large numbers.
Windows 8.1 faces an uptake chasm. PC sales are still falling, with the vacuum being filled by Android tablets in all kinds of shapes and form factors from suppliers new and old. Microsoft's operating system must cross a massive chasm to make an impression on the market. To do that, Microsoft must reverse the dynamics shaping the business – and itself. ®
Join All-about-Microsoft's Mary-Jo Foley, ITWriting and Reg reviewer Tim Anderson, and Reg software editor Gavin Clarke for a Windows 8.1 and Surface 2s Live Chat on October 23, at 2pm UK. Details to follow - mark your diaries.