America: Land of the free, still home of the BIGGEST spammers on the planet
USA! USA! USA!
The US prides itself on being the best at a lot of good things. And, judging by the latest data from security vendor Sophos, America is still the best at spaffing spam in the world.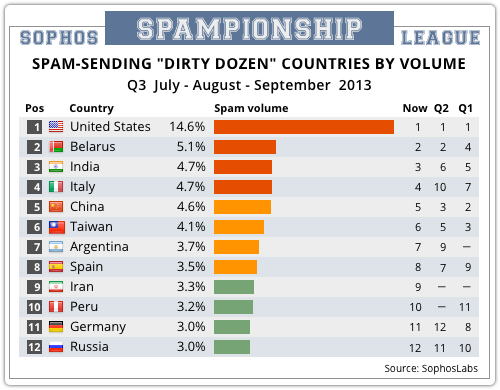 Gold medal in spam goes to the US
The firm's quarterly list of countries that send spam (as opposed to hosting spamming companies) shows that the US has held on to the top spot it has held all year. In all, the US is the starting point of 14.6 per cent of the world's emails that sell dodgy drugs, genital enhancements, and get-rich-quick schemes, as well as spreading malware.
It's not something many Americans are proud of, but the US did invent electronic spam. Back in 1994 the first spamming came from lawyers Laurence Canter and Martha Siegel, who deluged Usenet groups with offers of immigration services. As the internet grew in popularity, spammers went industrial before ISPs and legal eagles helped crack down on the practice.
What makes the US the top spammer these days is the large pool of unsecured - or poorly secured - computers that are infected with malware. It's notable in Sophos' stats that China (which has more internet users) puts out a third of the spam in comparison to the US and its spam rates are falling. Sure, individual PC ownership is lower in China than the US, but rising rates of PC buyers in the Middle Kingdom doesn't seem to be translating into higher spam generation rates.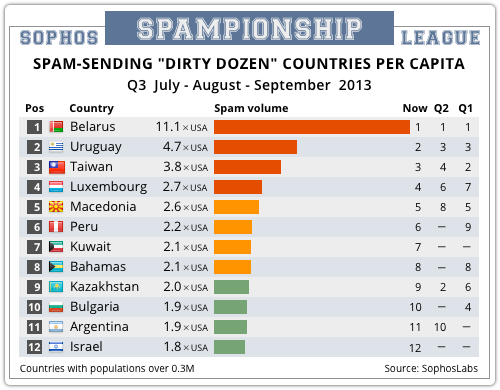 Small countries, big problems
In second place in the spamming league comes the tiny former-Soviet state of Belarus. While it only sends out about a third of America's spam by volume, its tiny population makes it by far the biggest per capita spam generator. By some estimates only one in every thousand emails from Belarus isn't spam.
Third and fourth place on the list belong to India and Italy respectively, with both showing big increases in spam generation in the first three quarters of the year. Kuwait and Israel are new entrants to the Sophos list this quarter, holding seventh and twelfth place respectively. ®