This article is more than 1 year old
Japanese pussies slurp 'meow meow' sex wine
Nyan Nyan Nouveau - Cabernet juice, catnip and a soupçon of euphemism
Pics Those cat-lovers among you who fear your beloved feline might feel left out at birthday and Xmas celebrations are directed to this tempting tipple - a brew of Cabernet grape juice, catnip and vitamin C dubbed "Nyan Nyan Nouveau".

For a modest ¥399 ($4, £2.50) a bottle, cats can join the festivities without the risk of a hangover or indeed ending up splashed across the pages of a Japanese magazine smoking a post-coital cigarette.
According to illuminating discussion here regarding the alcohol-free plonk's name, 'nyan-nyan' (ニャンニャン) is the local equivalent of "meow-meow", but it's also a euphemism for rumpy-pumpy.
Back in the 1980s, the career of Tomoko Takabe - a female member of teen pop trio Warabe - came to an abrupt end when weekly pictorial rag FOCUS ran a snap of her in bed puffing on a snout, apparently provided to the magazine by her decidedly ungallant boyfriend.
To avoid mentioning the s-word, the mag titled the photo "ベッドで二人仲良くニャンニャンしちゃった後の、一服である", which translates as "Having a smoke in bed together after a friendly meow-meow".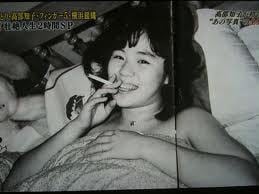 Cue scandal and ruin for Takabe, but elevation to linguistic fame for nyan-nyan. Although the phrase was previously known to Japanese youth as a term for heavy snogging, it quickly acquired the more full-on meaning among the general populace.
Fans of such phrases can rest assured it's been added to the El Reg Bootnotes lexicon for future deployment, in cases where headlines require a family-friendly touch. ®