This article is more than 1 year old
DRAM whammed, thank you ma'am: Kaminario K2 flash bests sib at SPC-1
But will it remain king for very long?
Kaminario has submitted an SPC-1 benchmark run on its K2 flash array, and it's reached the top.
It's booted the DRAM version of its K2 array off the top spot with a fourth-generation product, the K2 v4. The K2 DRAM scored 1,219,973.91 IOPS from its 1.2TB of RAM in July last year.
The K2 v4 system used 28 K-Nodes, each with eight 800GB SSDs inside them; a usable space total of 60.13TB, 30.6 per cent of the total capacity, 196.5TB. There were also two management nodes.
It scored 1,239,898 IOPS on the benchmark, which tests business-critical-grade IO performance from a storage array or sub-system.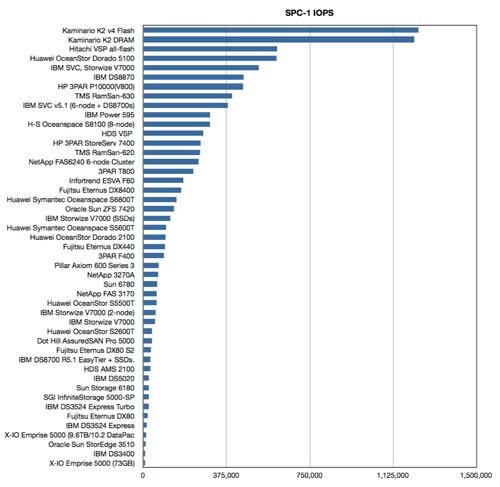 Eyes hurting? Click the pic for a bigger image.
The price-performance figure for the hardware, using the list pricing, worked out to $0.80/IOPS, twice the figure for the DRAM K2 but still the third-lowest cost in our SPC-1 records.
The third-fastest array in the SPC-1 benchmark is a top-of-the-line all-flash VSP from HDS, which is rated at 602,219.47 IOPS. This is followed by an all-flash Huawei system and that in turn by an all-flash IBM Storwize V7000.
Flash pretty much rules the SPC-1 roost. It'll be interesting to see how EMC's XtremIO array and NetApp's FlashRay do on this benchmark. It would be good to see how HP's 3PAR 7450 performs as well. Will Kaminario stay in place as the SPC-1 flash king for very long? ®