Flash memory biz SanDisk is on a roll with third quarter revenues and income up on both annual and sequential compares.
Third quarter revenues in 2013 were $1.63bn, 10 per cent up sequentially, and 28 per cent on the year-ago period. Net income was $277m, also up 6 per cent sequentially and 262 per cent annually. That's also 17 per cent of the quarter's sales – down a little from the 17.7 per cent in the second quarter of 2013, but still good.
The financials chart shows a rising trend for the past three quarters, and a full-year revenue in excess of $5.5bn must be in prospect.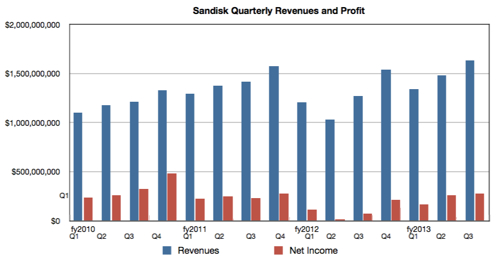 SanDisk's sales and net income
Company president and CEO Sanjay Mehrotra said in an earnings call with analysts: "Our excellent third quarter achievements keep us on track to deliver record 2013 results." More on this in a moment.
First, some details:
Client solid-state drives (SSDs) delivered record revenue for the fourth quarter in a row.
SanDisk client SSDs are now qualified at all the major PC manufactures.
Enterprise SSDs saw sequential revenue growth to produce a record quarter.
Its enterprise SSDs are now qualified at six of the top seven storage system manufacturers.
Its enterprise SSD software could be sold standalone to run on non-SanDisk hardware
The SMART Storage Systems acquisition has caused an adjustment in SanDisk's big-biz flash strategy:
We have determined that SMART Storage Systems' Enterprise SSD product architecture is more scalable than our existing platform with significant headroom to drive new features and higher levels of performance and endurance that our Enterprise customers require. Therefore, we plan to implement the [SMART] Guardian Technology into more of the Enterprise products in our roadmap.
Investment outfit Stifel Nicolaus' managing director Aaron Rakers noted: "SanDisk is writing off some of the intellectual property-related intangibles from the Pliant acquisition."
SanDisk is also "accelerating investments in [SMART/Diablo] UltraDIMM, a new product category aimed at the high-performance, low latency market". In SanDisk's view "UltraDIMM SSDs place NAND flash memory on DIMMs, very close to the processor, enabling lower latency and higher storage densities per server for high performance computing applications".
Rakers noted: "SanDisk reported that it has commenced sample shipments of its enterprise-class UltraDIMM solutions with OEMs."
Mehrotra admitted "the expected launch of our 12Gbit SAS SSD product will be delayed"; the launch is now expected in mid-2014. Rakers said enterprise-class PCIe hardware is also being pushed out to some time in 2014. No reasons were given for these delays.
The introduction schedule for the 3D BICS flash technology will go into pilot production in 2015 and ramp for volume manufacture in 2016.
SanDisk has started paying out dividends to shareholders and repurchasing stock to inflate the share price. It's quietly confident about the next fiscal year as well as this one. Fourth quarter revenue is estimated be $1.675bn at the mid-point, providing as much as $6.12bn full-year sales; that's a billion bucks - about 20 per cent more - more than last year's $5.1bn. ®