This article is more than 1 year old
FROM MY COLD, DEAD HANDS: Microsoft faces prising XP from Big Biz
Even Facebook is still running the 12-year-old OS, but the clock is ticking
Windows versions are a bit like Star Trek movies – every other one tends to be a bit duff. It happened with ME, then XP impressed everyone, then it happened with Vista, then Windows 7 came along – and now we're at Windows 8.1.
So far, adoption rates of Microsoft's latest hope for cross-device domination haven't been great. NetMarketShare, a site that tracks use of operating systems via data grabbed from 160 million unique visits to some 40,000 sites per month, puts the current Windows 8 share of desktops at 8.02 per cent, versus 46.39 per cent for Windows 7 and 31.42 per cent for Windows XP.
That share is likely to creep up over time, but it highlights the lack of enthusiasm for Microsoft's new OS. Vista, according to NetMarketShare's figures, had marginally better adoption at the same point in its lifecycle.
Part of the reason enterprises are loath to upgrade to a new OS is that they've built an IT infrastructure that works reasonably well with the current iteration and don't want to splash the cash necessary for a major upgrade.

Windows XP's decline seems to be Windows 7's triumph (click to enlarge) Source: NetMarketShare
This hack can attest that some of the computers used by the UK Borders Agency are still running XP, as are 85 percent of the computers used by the UK National Health Service, which is fine – it's a sturdy, competent 12-year-old operating system.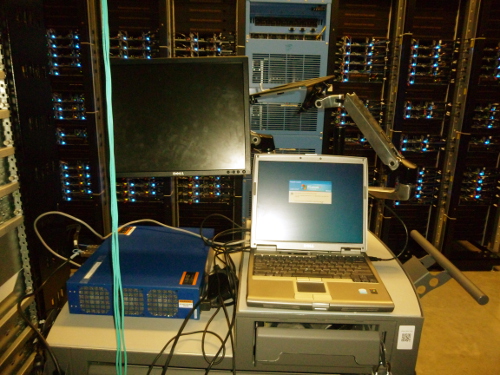 Even some of Facebook's skilled technicians remain on XP
It's not only large enterprises or public-sector organizations that aren't upgrading - even some tech-first companies are steering clear of the new OS. On a recent trip to Facebook's data center in Oregon we spotted that one of the social network's maintenance and testing machines was running the venerable operating system.
With official support for XP ending in April 2014 the clock is ticking on businesses to upgrade – but will it be Windows 8 they move to, or 7? Microsoft is hoping for the former, but the paranoia of IT bosses combined with glacial migrations points to the latter. ®