This article is more than 1 year old
Microsoft holds nose, shoves Windows into Android, iOS boxes
New native RDP clients bring Start button to smartmobes and fondleslabs
Microsoft may not yet be keen for its Office suite to run on rivals' mobile devices, but it has made good on its promise to make Windows accessible on Android and iOS devices.
As we flagged last week, that promise was to release native RDP clients for Android and iOS. Both have now landed. Here's the iOS version. The Android version lies behind this link.
Microsoft seems to be aiming the new apps at end-users, with the blurbs on both app stores suggesting "you can connect to a remote PC and your work resources from almost anywhere ... to help you get your work done wherever you are." There's no suggestion of remote administration, so we're going to presume the work Redmond has in mind is whatever else one might wish to do to or with a Windows computer. Microsoft thinks using Modern Apps is one of those things, as it is making much of the new apps' ability to convey Windows 8.x's gestures to a remote PC.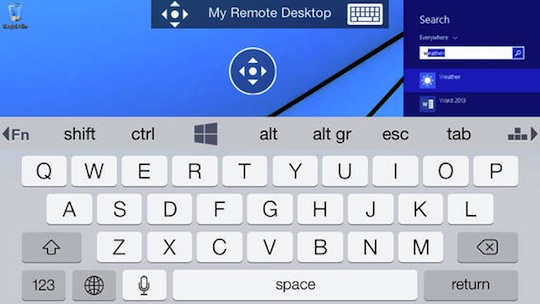 That distant scream you hear? Safe guess it's Jony Ive's reaction to seeing Windows and iOS 7 together
As we've noted previously, Microsoft is late to the Windows on smartmobe or fondleslab party, and some early reviews of these new apps compare them unfavourably to existing products.
One of Vulture South's 's favourite sysadmins, Adelaide's Adam Fowler, offered the counter-argument below.
@ssharwood The fact that you don't have to install a 3rd party client to a PC is awesome.

— Adam Fowler (@AdamFowler_IT) October 18, 2013
Fowler also posted the following:
@ssharwood I've Remote Desktop'd home, and it just works. This is awesome but I bet it'll cause some security risks.

— Adam Fowler (@AdamFowler_IT) October 18, 2013
Microsoft? Security? The thought never connected a single synapse. Not a one. ®