Hands up, who couldn't post to Facebook today? Oh, MILLIONS of you
Complaints pile up on Twitter, natch
People have actually started doing proper work this afternoon after Facebook users complained they cannot post status updates on the social network.
Many naturally took to Twitter to sound off about the free content ad-network's sudden wobble.
The Register asked Facebook to explain what had gone wrong, but for now it is puzzling over the glitch.
A spokesman at the Mark Zuckerberg-run company told us: "We're aware of the problems people are having. We are looking into it now."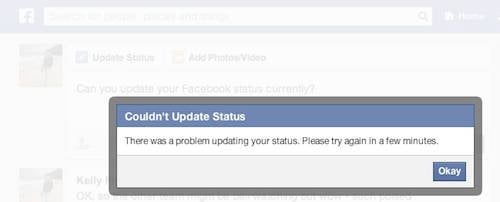 Admen wail in agony at silenced Facebook
Some unhappy souls moaned that they had been locked out of posting updates on the site for hours.
UK productivity, meanwhile, surged, the Office for National Statistics reported*. ®
*#snigger.
Updated to add
The social network has now recovered after millions were unable to update their profiles for a couple of hours.