This article is more than 1 year old
Mutant array upstart Nimble Storage slips IPO forms into SEC's postbox
Tech firm which sells products - not customers - preps for float
Mighty mutant flash/disk array startup Nimble Storage has filed a preliminary form with the SEC announcing its intention to proceed with an IPO. The number of shares for sale and the price range haven't been decided yet – it hasn't even picked a date.
Nimble was founded in November 2007 by ex-Data Domain staffers, including engineer Varun Mehta, who is currently its VP of engineering after moving from the CEO spot. Umesh Maheshwari is the other and presently the CTO. Its CEO is now Suresh Vasudevan.
It started shipping its iSCSI interface CS200 arrays in August 2010, adding a larger CS400 and clustering in August last year.
Nimble is one of three of the most prominent hybrid array startups – the other two being Tegile and Tintri. All three offer flash speed for most data read accesses and disk affordability for the majority of the stored data.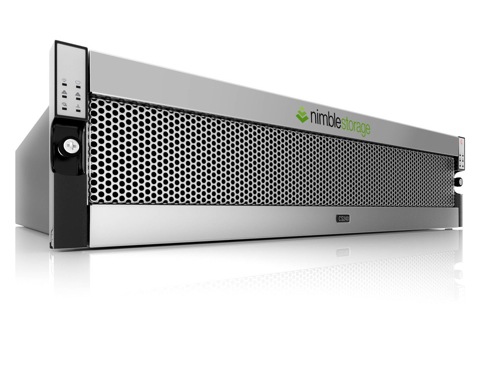 CS400
Essentially, they're cheaper than all-flash arrays but nearly as powerful, and much faster than disk arrays while not being much more expensive. They also typically have system software designed to use flash well and support virtualised servers, and more responsive support systems than the mainstream array vendors.
All three are growing fast and have hinted at IPOs with Nimble putting its S1 stake in the ground first.
Nimble's product ship and customer growth rate is impressive:
Jan 2011 - Few systems sold and 66 customers.
Jan 2012 - 506 systems sold and 276 customers.
Sep 2012 - More than 1,000 systems sold to more than 500 customers.
Jan 2013 - 2,025 systems sold and 1,107 customers (around 400 per cent growth in each category).
Jul - 2013 - More than 1,750 customers.
So it might achieve the 2,000 customer mark by the end of its 2013 ywar. The funding history looks like this:
January 2008 – A-round funding of $8m from Sequoia and Excel Partners.
2009 – B-round of $9m led by Lightspeed Ventures.
Autumn 2010 – C-round of $16m from existing investors.
Summer 2011 – D-round of $25m from ARTIS Capital, DataDomain's largest investor.
September 2011 – E-round of $40.7m.
Total funding is $98m and the revenue/losses story is:
Revenues of $1.7m and losses of $6.8m in the year ending Jan 31 2011.
Revenues of $14m and losses of $16.8m in the year ending Jan 31 2012.
Revenues of $53.8m and losses of $27.9m in the year ending Jan 31 2013.
Revenues of $50.6m and losses of $19.8m in the six months to July 2013; perhaps indicating a $100m full year.
Its business model is becoming healthier. The SEC Form S-1 states: "As a percentage of total revenue, our operating expenses have declined from 175 per cent for the year ended January 31, 2012 to 114 per cent for the year ended January 31, 2013 and to 101 per cent for the six months ended July 31, 2013."
A fivefold payout for the investors would indicate an IPO valuation of at least $500m as the IPO banks would want their cut of the action. Possibly Nimble will look for gross proceeds of $600m.
What will it use its proceeds for? The S1 states: "We intend to continue to invest in development of our solutions and sales and marketing programs to drive long-term growth. To support future sales, we plan to continue to invest significant resources in sales and marketing... we intend to hire additional sales and marketing personnel. We are also expanding our VAR network and will be starting to contract directly with large distributors."
Let's hope Nimble Storage manages to jump over the IPO hurdle without tripping. ®