You like iPads, you like things called 'Air'. You will LOVE this puppy
'Hmmm... that MacBook Air seems to have worked out well'
As expected, Apple refreshed its iPad lineup on Tuesday morning. Unexpectedly, it renamed its top-of-the-line 9.7-inch tablet to the iPad Air.
Seeing as how the MacBook Air has been one of Apple's most successful products in recent years, it's perhaps no surprise that Cook & Co.'s marketing folks decided to borrow some of that branding mojo for their latest iteration of the iPad.
The new Cupertinian fondleslab is smaller and lighter than its predecessor, with a reduced bezel size – 43 per cent thinner than the bezel on the previous version. It now weighs in at just 1 pound, down from the 1.4 pounds of the model it replaces. In addition, it's now 7.5 millimeters thick, down from 9.4 millimeters – a reduction of 20 per cent.
"To make an iPad this thin took a huge amount of work over years," Apple marketing headman Phil Schiller said during today's rollout event in San Francisco.
"The team has just been remarkable in finding every tenth and every hundredth of a millimeter from every level of the system, from the bezel to the multitouch surface to the display and battery and enclosure," he added, calling the slab the lightest full-size tablet in the world.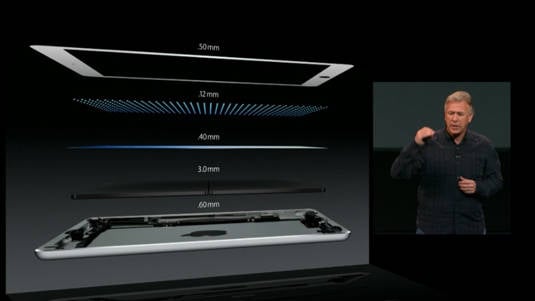 A fraction of a millimeter here, a fraction of a millimeter there – it all adds up (click to enlarge)
The iPad Air is powered by the same 64-bit A7 application processor that's in the iPhone 5s announced in September, and it also includes the battery-saving M7 motion processor that's in the top-of-the-line iPhone, offloading sensor-monitoring and processing duties from the A7.
Wi-Fi has been upgraded to a dual-antenna MIMO implementation of Wi-Fi 802.11a/b/g/n – not 802.11ac – which Schiller promised will provide "up to twice as fast" 802.11n performance; Apple claims performance of up to 300Mbps. "We've also expanded the ability to have broadband wireless access in more places around the world with expanded LTE coverage," Schiller said, "with more and more carriers."
If you were hoping for greatly improved cameras, however, the iPad Air will disappoint. It still has a 5-megapixel ƒ/2.4 rear-facing iSight camera and a 1.2-megapixel front-facing FaceTime HD camera, as did its predecessor. The iPhone 5s, by comparison, has an 8-megapixel, ƒ/2.2 iSight camera. Schiller did claim, however, that the low-light performance of the iPad Air's FaceTime camera has been improved.
Despite rumors that a gold iPad was in the offing, the iPad Air will only be available in "silver and white" and "space grey and black" – that much gold bling, in our opinion, would have been too much for even the most "look at me" fanboi.
Schiller emphasized the processor and graphics performance improvements of the iPad Air over previous Apple tablets, saying that CPU performance is up to eight times greater than that of the original iPad, and GPU performance as much as 72 times greater.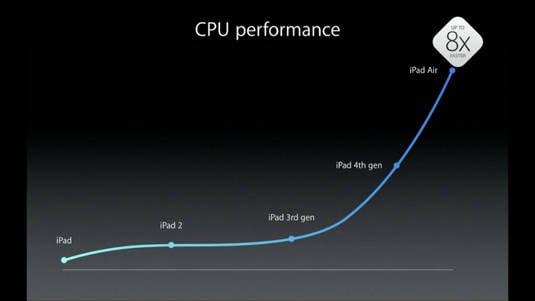 The original iPad was known for it's 'tap and wait' performance lag; the iPad Air promises improvements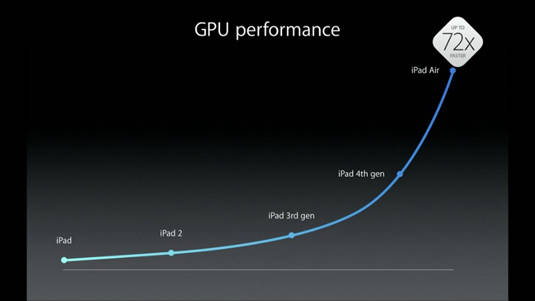 The iPad Air's Imagination Technologies GPU cores promise to provide a hefty graphics boost
The iPad Air will be available in 41 countries – and Schiller was quick to point out that one of those "wave one" countries will be China – when it goes on sale on November 1. Pricing for the Wi-Fi–only versions starts at $499 for the 16GB model, with $599 for 32GB, $699 for 64GB, and $799 for 128GB. The "Wi-Fi + Cellular" versions will run to $629 for 16GB, $729 for 32GB, $829 for 64GB, and $929 for 128GB.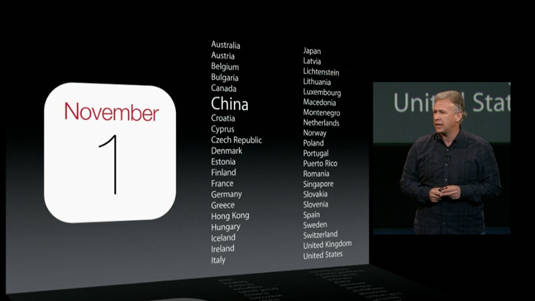 Latvians, Liechtensteiners, Lithuanians, and Luxembourgers take note: you have not been forgotten
The iPad 2 will remain in Apple's product line, and will be available for $399 for the 16GB Wi-Fi model and $529 for the 16GB Wi-Fi + 3G model from both AT&T and Verizon in the US.
"This is probably out biggest leap forweard in a full-sized iPad," Schiller opined. Whether or not the market agrees will be discovered in the coming months, but from where we sit the improvements are far from Earth-shattering though welcome, especially the weight reduction and improved performance.
As for the camera? We've always thought that taking photos or videos with an iPad was, well, more than a wee bit silly. ®