The US federal spending shutdown has hit EMC's results, causing declines in both revenues and profits compared to the previous quarter.
In comparison, rivals VMware saw accelerated double-digit year-over-year revenue growth; no federal shutdown effect visible there.
Third quarter revenues of $5.5bn were $100m less than the second quarter and net income of $586m was 16 per cent below the second quarter's $701m.
Revenues did grow 5 percent compared to the third 2012 quarter's $5.28bn but net income declined 6.4 per cent year-on-year. Federal spending counts for a lot.
David Goulden, EMC President and COO, said: "While our financial results for the third quarter were impacted by a decline in US federal spending and a backend-loaded quarter, we achieved almost all of our strategic and operational goals. We were pleased to see storage demand accelerate in the third quarter excluding US federal, and we think this is an encouraging sign for the storage market overall. Going forward, we remain confident EMC will continue to grow and gain market share."
EMC chairman and CEO Joe Tucci said, "Despite our disappointment with our quarterly results, our confidence in the success of our strategy over the long term has never been stronger."
The company noted:
19 per cent annual growth in its BRIC+13 markets*
Year-on-year revenue growth in VMware and Pivotal as well as EMC
Year-on-year revenue growth for EMC Information Infrastructure Products
EMC's Emerging Storage business (Isilon, Atmos, VPLEX, RecoverPoint, ASD Suites and Xtrem families) increased revenue 66 per cent year over year.
The business segment revenues have been tabulated by EMC: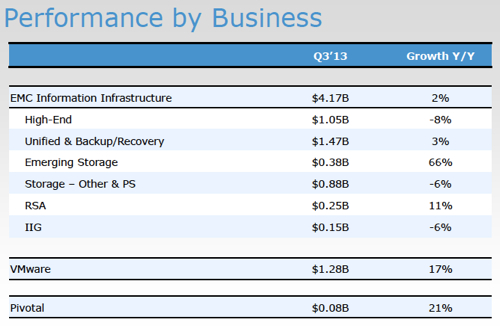 So VMAX did poorly as did the Information Intelligence Group. Thank goodness for Isilon which saw strong annual growth and a record number of new customers. It better keep on going as there is no other substantial mega-growth product category in prospect.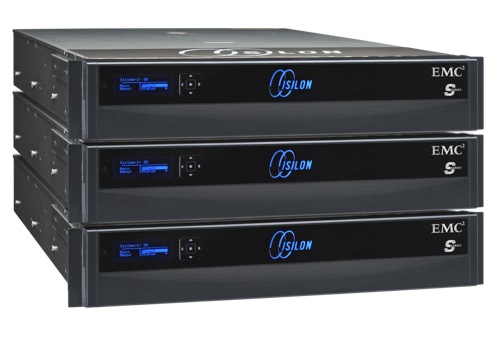 Isilon 3-node S200
The refreshed VNX products should positively affect revenues in the fourth quarter. We think they will have to go gangbusters, as would Isilon and ViPR, to get EMC back to double-digit revenue growth.
There was solid demand for Atmos and better than 50 per cent year-on-year revenue growth for VPLEX.
The RSA business increased revenue 11 per cent annually. VCE had an "excellent quarter" and VSPEX revenues grew.
The geographic splits demonstrated the federal squeeze: US revenues increased 2 per cent year-on-year to $3bn while non-US revenues grew 8 per cent to $2.6bn. ®
Bootnote
*The BRIC+13 group of countries encompasses Brazil, Russia, India, and China plus Mexico, Colombia, Argentina, Poland, Czech Republic, Hungary, Turkey, Saudi Arabia, South Africa, United Arab Emirates, Thailand, Indonesia and Vietnam.