Keyboard fatigue? Now you can SCRAWL in Gmail and Google Docs
Handwriting support for up to 50 languages
In an effort to make it easier to enter multilingual text into its online services, Google has added handwriting input support to Gmail and Google Docs.
The idea is not so much that you'll ditch your keyboard and use your best mouse-based penmanship to compose emails and documents. Rather, the tools are aimed at letting Gmail and Google Docs users more easily enter characters in languages they don't ordinarily use.
For example, if you're typing a document in English but want to insert a few phrases in Japanese, you can pull up the appropriate handwriting-recognition widget and write the Hiragana characters by hand. The widget will then scan what you wrote and offer up the best-matching characters as Unicode text.
"Whether you're a student trying to include a foreign phrase in your paper or an international consultant hoping to begin your message with a friendly local greeting, now you'll be able to use your own handwriting to input words directly into Gmail and Google Docs with your mouse or trackpad," the Chocolate Factory's Xiangye Xiao wrote in a blog post on Tuesday.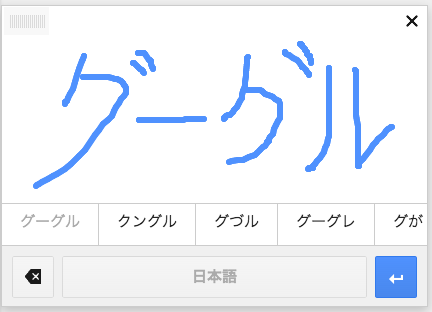 If your hand is steady enough, Google's handwriting recognition widget will figure out what you mean
Note that you can use your finger or a stylus on devices that support them, too, but you'll need a browser that doesn't mistake your scrawls for attempts to scroll around the screen (Internet Explorer 11, I'm looking at you).
The technology seems to be essentially the same as the handwriting support Google added to its mobile search page last June, although the letter recognition is perhaps more forgiving on a PC with a generous-sized screen.
To use the new tools, you first must activate them. You do this from the Language menu in your Google account settings, though the exact procedure is different for Gmail and Google Docs. Once the tool is active, you can call up the handwriting input widget by clicking on the pencil icon.
As of Tuesday, Google Docs offers handwriting support for 20 languages, while Gmail supports 50, including such exotic scripts as Dzongkha, Gujarati, Oriya, and Sinhala. So far, however, Klingon is not supported. ®