New iPad mini gobbles Retina display, 64-bit brain, puts on little weight
Previous model stays on store shelves, now starts at $299
Proving yet again that there's no such thing as a secret in the tech world anymore, Apple has – as widely rumored – produced a new iPad mini with a Retina display.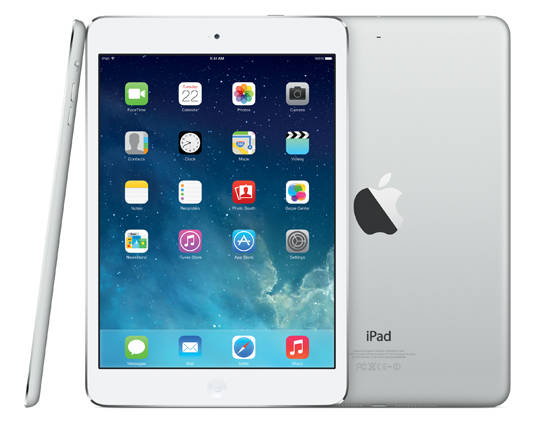 The new iPad mini with Retina display benefits from a prodigious processor power pop
"The one most-requested feature to add to iPad mini is a beautiful Retina display," Apple marketing man Phil Schiller told his product-rollout audience in San Francisco on Tuesday, "and that's what we're going to do today."
The Retinia display on the new iPad mini has the same resolution as its big brother the iPad Air, also announced on Tuesday – 2048-by-1536 pixels – thus allowing both tablets to run the same software. The 7.9-inch iPad mini's pixel density is, of course, higher than that of the 9.7-inch iPad Air: 326 pixels per inch (ppi) versus 264 ppi.
At 7.5 millimeters, the iPad mini is also the same thickness as the iPad Air, and a bit thicker than its non-Retina forebear, which was a hair over 7.1mm thick. It's also a smidgen heavier than the non-Retina iPad mini at 0.73 pounds for the Wi-Fi–only version and 0.75 pounds for the "Wi‑Fi + Cellular" version; the earlier version was 0.68 pounds for Wi-Fi–only and 0.69 pounds for Wi-Fi + Cellular.
The iPad mini's Retina display is not the only jump up in quality over its predecessor; it's also been outfitted with the same 64-bit A7 application processor and M7 motion coprocessor that are in the new iPad Air and top-of-the-line iPhone 5s.
Seeing as how the previous iPad mini had a 32-bit A5, the move to an A7 provides a serious boost in performance – four times the CPU performance and eight times the GPU oomph, according to Schiller – while still maintaining a 10-hour battery life.
Also like the iPad Air, the new iPad mini will have expanded LTE support and a dual-antenna MIMO version of Wi-Fi 802.11a/b/g/n, which Apple claims in its usual modest way will provide a "blazingly fast data rate up to 300 Mbps" – although it does footnote that statement with the caveat: "Based on theoretical speeds, actual speeds may vary."
No gold bling on the new iPad mini: like the iPad Air, it comes only in "silver and white" and "space grey and black", but unlike its larger sibling, it won't be available on November 1 but instead "later in November," Schiller said. The Wi-Fi–only version will run $399 for the 16GB model, $499 for 32GB, $599 for 64GB, and $699 for 128GB. The Wi-Fi + Cellular models set you back $529 for 16GB, $629 for 32GB, $729 for 64GB, and $829 for 128GB.
The iPad mini with Retina display won't replace its non-Retina predecessor. That model will still be available, with its $329 16GB price tag lowered to $299; a 16GB Wi-Fi + Cellular model will be available in the US from AT&T, Sprint, and Verizon for $429.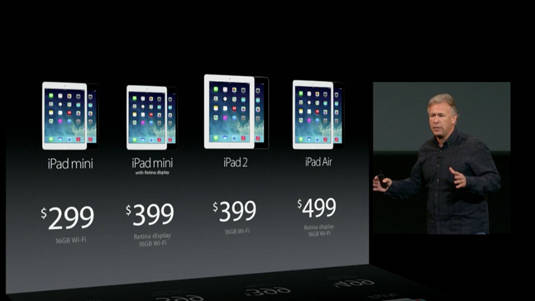 Remember, these are just the 16GB Wi-Fi–only prices for the new iPad line
– the 128GB Wi-Fi + Cellular iPad Air runs a cool $929 (click to enlarge)
"We couldn't be prouder of both new iPads," said Apple CEO Tim Cook at the Tuesday rollout shindig, adding that "these amazing products are examples of the type of innovation that only Apple can deliver."
Perhaps – but "innovation" is a tough taskmaster in a maturing market such as that of tablets. Also tough to satisfy are the opinions of the Wall Street moneymen – Apple's stock price started the day at $526.41 per share, sunk to a low of $508.03 during the Tuesday event, and rallied back to a bit over $520 as we click publish on this article. ®