SanDisk coughs to powering Kaminario's SPC-1 smackdown
See that? That's ours, that is. Well, the flashy bits are
---
Surprise, surprise: Kaminario's SPC-1 topping K2 flash array used SSDs from enterprise-supplying newbie SanDisk.
Actually they were probably SMART Storage Systems' SSDs at the time Kaminario selected them, as SanDisk only bought SMART this summer. The Kaminario supply deal probably helped SanDisk in its July decision to buy SMART.
Before then, Optimus was a SMART Storage brand, SMART Storage having been spun out of Smart Modular Technologies.
SanDisk's release about its Kaminario supply deal has a canned quote from Ritu Jyoti, VP of product management at Kaminario: "The Optimus SSDs allow the K2 to deliver the performance and capacity needed for nearly any application at a reasonable cost. This not only enables us to meet customer performance and budgetary needs, but break world records in the process."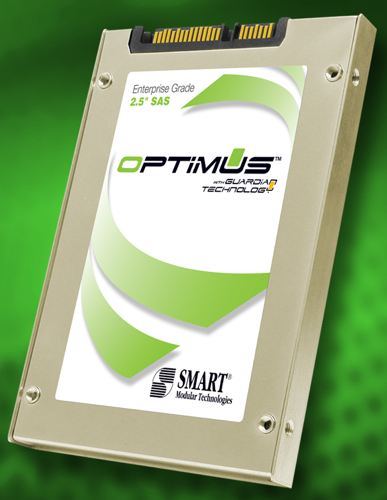 SMART Optimus SSD
These SSDs use cheaper MLC flash along with a Guardian technology suite to prolong their useful lives. The suite provides backup power circuit technology, full data path protection, data fail recovery, thermal monitoring and AES 256-bit encryption.
SanDisk is so pleased with Guardian that it plans to to use it in more enterprise products in its roadmap.
Pretty smart buy by SanDisk, really. ®