This article is more than 1 year old
Lumia 2520: Our Vulture gets his claws on Nokia's first Windows RT slab
This RT slab means business
Review Nokia's first Windows RT tablet – the 10.1in 2520 – was unveiled today, showing how wise the company was to bide its time.
The Finnish firm has watched while first-generation Surface RT tablets and convertible laptop-slabs crashed and burned, and today's offering shows what it learned.
The Lumia 2520 stands out on both price and performance and its practicality makes for a contrast with Microsoft's "look at me" Surface RT flop. Nokia is really forcing itself into contention here: we understand that pricing in the UK will be around £399 without keyboard and around £498 with a keyboard (official pricing for US has already been announced – $499 without and $648 with keyboard). It's one to take seriously.
But there are things only apparent in a hands-on, so read on for some occasionally surprising discoveries.
Bare nekkid, without its keyboard, the Lumia 2520 is a pretty slimline and robust tablet, as these things go, which means that while it's larger than the iPad 4, it's actually lighter. Considering battery life is 11 hours (plus four from the keyboard's battery), this is quite competitive. The robust polycarb shell has been scaled up. Slightly surprisingly, the 2520 uses its own proprietary charging port rather than USB - presumably to achieve the very rapid charging time (50 per cent of the monster battery gets filled in 45 minutes).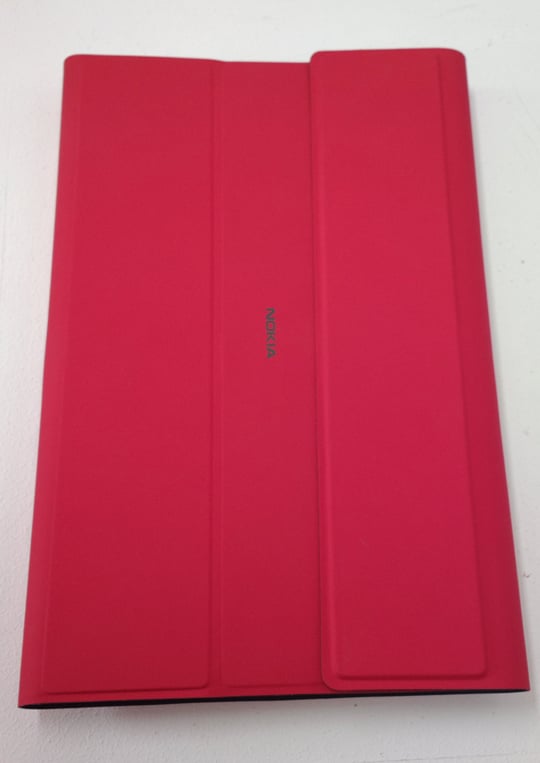 And yes, it's the Windows desktop – but the Windows 8.1 RT version of Windows Desktop. The pros and cons of RT are very relevant here: Microsoft made an ARM version of Windows with a subset of the full Intel Windows, arguing the subset can go further and cheaper and on new kinds of devices. So RT means you can't run x86-64 Windows binaries. But unlike on the iPad, or on a Windows Phone, you do get a full file manager.
The processor at the heart of the 2520 is an ARM-compatible Qualcomm Snapdragon 800 quad-core system-on-chip running at 2.2GHz and coupled to 2GB of RAM.
The screen is outstanding, a full HD 1920x 1080 panel with the polarizers Nokia uses on mid-range and high-end Lumias to improve readability in the sun. It's very bright already – at 665 nits – and does a good job of reducing reflections.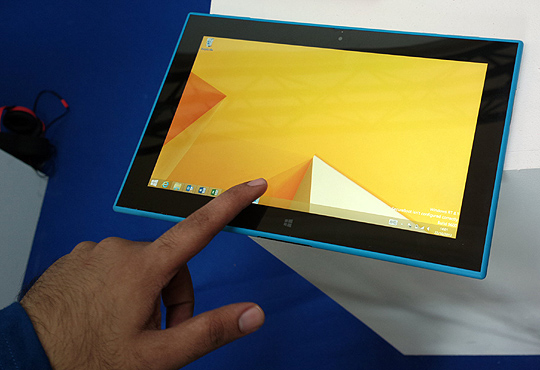 The keyboard clips into the slab using firm plastic fasteners. Here's a detail of that stand: the keyboard's position is maintained by magnets. It all feels very solid – the disadvantage being you're stuck with the viewing angle. The other disadvantage is that you really have to wriggle the device to detach it from the keyboard jacket. With the Surface, which only uses magnets to bind the two laptop "halves", you just yank them apart.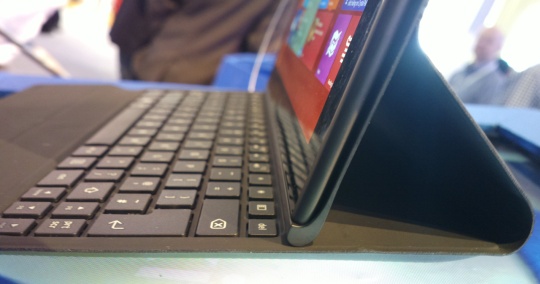 Click to enlarge
Nokia has eschewed gimmicks here. It looks very professional, and PC-era anachronisms are ported over. Including – yes – that's a PrtSc key. No sign of AltGr, though....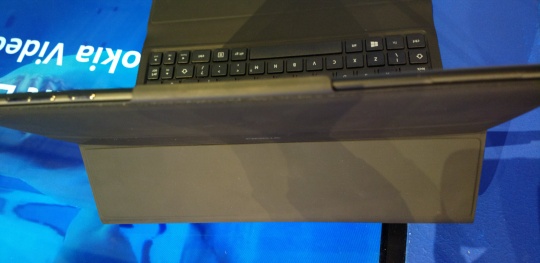 One thing not apparent from the publicity material or marketing renders is that the flap containing the touchpad is on another, hinged portion of the cover. Here you can see it flopping over the edge of a table: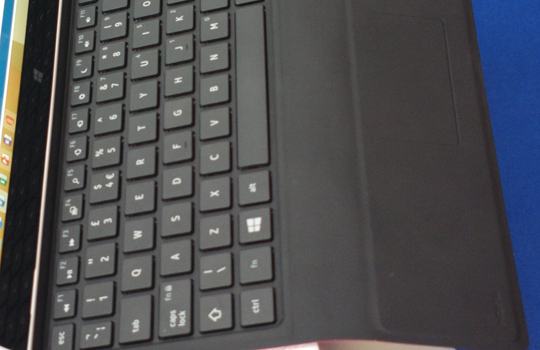 So. What have we really got here? And with £500 buying you a pretty decent laptop, what does a Lumia 2520 get you?
LTE and battery life are what's really new here. They transform RT from an industry joke to something seriously worth considering. The keyboard combo in the 2520 gives you 15 hours.
A year ago RT was truly a basket case: with awful performance and immature software. Now the software is maturing it begins to fulfill Microsoft's goal for the ARM caper – which is to provide a rich subset of Windows in new devices, with better battery performance. An office worker who mostly uses (say) Office and Skype or Twitter should seriously consider this, as the flexible form factor adds a great deal of potential convenience. You couldn't say that a year ago. If you have so far considered RT to be a deal-breaker – and many readers do, quite rationally, based on the devices launched to date – then the 2520 obliges a rethink.
Two things are worth considering.
There are several lacunae with RT, starting with the fact that quite a few useful applications don't run on RT as they're not ARM-compatible, but "Modern" RT-native equivalents haven't shown up yet. Secondly, Adobe won't port Photoshop to RT, and instead provides Photoshop Touch. (Really, it's a noddy photo editor). We'll probably never see Visual Studio or the full Photoshop ported to RT - that's not why it exists.
But there will be vertical or specialist apps that are vital to a business that needs to be on the RT platform. A year ago Salesforce's CEO was mocking Windows RT – his firm currently shuns Microsoft platforms. But if Salesforce customers start to support it, how long can he maintain the boycott?
Secondly, there's some devil in the detail which Microsoft needs to fix. Some functionality in full Office is missing in Office RT (see here), including macros, Lync integration, and support for Sharepoint site mailboxes. In addition, unless you have a volume licence, you can only use Office RT in a non-profit business environment. Redmond is expected to detail a roadmap for Office, including Office RT, in the next few days.
In the 2520, Nokia has actually developed a grown-up computer that makes RT viable in business for the first time – but Microsoft still appears to think RT is a consumer platform, an "iPad killer". Stuff that. ®