SUPERSIZE ME: Nokia unveils Surface rival and 2 plumped-up phablets
Lumia, I hardly knew ya... SIM slot brings the RT tablet to the train... and the boardroom
---
Nokia World Nokia announced a rival to its new owner's Surface RT tablets today, along with its first two phablets, aka phondleslabs, at the final Nokia World partner event in Abu Dhabi today.
Nokia also disclosed that Vine and Instagram are coming to Windows Phone, making it a little easier to sell to that vital demographic of self-obsessed hipsters.
Like Microsoft's Surface, plenty of thought has been put into making a 10-inch fondleslab work nicely with a detachable keyboard. The Lumia 2520, as it is called, comes with 4G and is keenly priced ($499); the $149 detachable Power Keyboard has a gesture trackpad – a nice idea, since switching from typing to swiping is inconvenient.
The 2520 has a 15-hour (8800mAh) battery and it can reach 50 per cent of a full charge in 45 minutes, according to Nokia. And the pricing is certainly aggressive: the $499 before tax and subsidies means it's roughly where Atom-powered netbooks used to live. You can, of course, get a passable conventionally designed laptop for that price, so the convenience has to be worth it.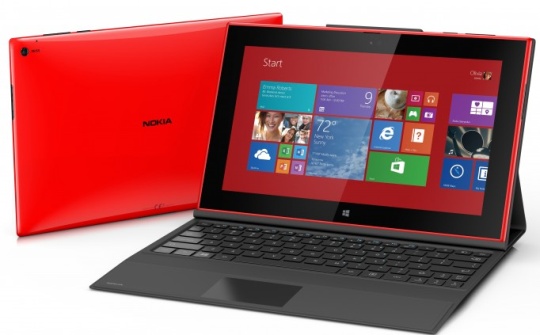 Nokia's first RT slab, with detachable keyboard
But, wait. Microsoft wrote off $1bn for its first flop Surface RT – so what makes Nokia think the market had suddenly developed an appetite for RT tablets? Nokia CEO Stephen Elop said tablets tend to be used in morning and evening peak times but not during the day, and part of the reason was that 80 per cent of tablets today are Wi-Fi only.
Nokia's Lumia 2520 includes a SIM slot and claims the highest peak brightness (650 nits) with lowest reflectivity (under 6pc). Alas, the oversampling sensor technology is not part of the deal: probably to keep costs down, the 2520 has a decent 6.7MP conventional phone sensor and optics and a 2MP front camera.
It's also introducing a better camera. Perhaps part of the reason Nokia has a chance is timing: the hardware and software are more mature. The first RT software lacked a decent Office suite and Outlook was completely absent. The 2520 is pre-installed with Windows 8.1 which means Word, PowerPoint, Excel and One Note have improved, and Outlook has arrived.
The 2520 also sees offline HERE maps bundled and an exclusive DreamWorks game for kids - both acknowledgements that iPads are used a lot in cars.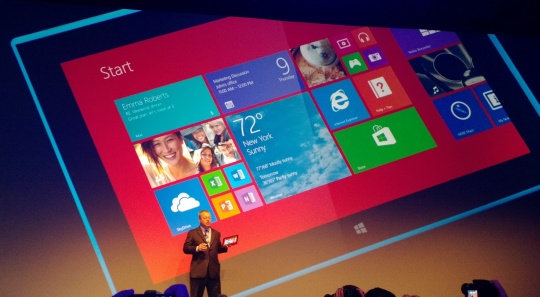 Elop announcing Nokia's first true fondleslab. It's true: you don't need a stylus.
The UK should see availability of the 2520 this quarter, and in other markets in Q1 2014. )
Big phones too
Nokia announced two phondleslabs - both 6-inch monsters – one including some of Nokia's high end technology alongside a budget model. The Lumia 1520 includes Nokia's own oversampling camera technology seen in the PureView 808 and Lumia 1020, in a smaller 20MP sensor. It also sports a fine 1080p display, the new resolution enabled by the latest GDR3 version of Windows Phone 8. A budget model, the Lumia 1320 is aimed at "the younger crowd" is same size but with much more modest specs: 4G but only a 720p display and 5MP camera.
The 1520 has wireless charging built in and a 3400mAh non-removable battery.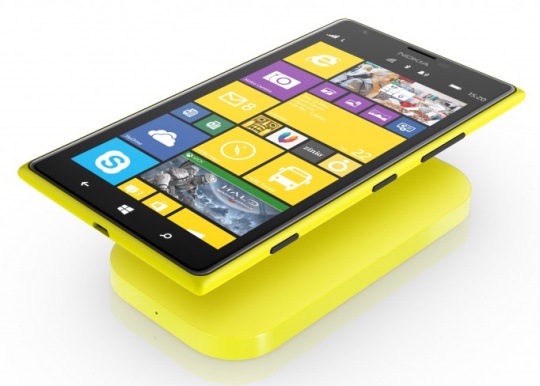 Lumia 1520: Huge screen, stonking battery and wireless charging built in
All the new devices today include a "Storyteller" app and a revised camera app – again. Native Vine and Instagram apps are finally coming, with Vine first. The Beamer screen sharing app is also bundled – a very useful app once people figure out how to use it.
It remains to be seen whether Microsoft will allow the Lumia 2520 the opportunity to hit the market, as it goes head to head with its own Surface range.
Given that Surface distribution was constricted while Nokia has a great distribution chain via its long-time operator partners, and that the 2520 has a few USPs of its own, it would be daft to strangle it at birth. With Microsoft, you just never know. ®