This article is more than 1 year old
New leak claim: NSA saw hole in Mexican prez's email box - and hacked it
Operation Flatliquid sparks further fury down south
America's relationship with its nearest southerly neighbor are frostier than before after it was claimed that in May 2010 the NSA conducted an operation dubbed Flatliquid that hacked the contents of the then-Mexican president's inbox.
According to documents leaked to Der Spiegel, a division of the NSA dubbed Tailored Access Operations (TAO) reported successfully penetrating the public email systems of President Felipe Calderón, who stepped down from office in December 2012. The account was used for communication with other staff and was described in the once top-secret report as "a lucrative source."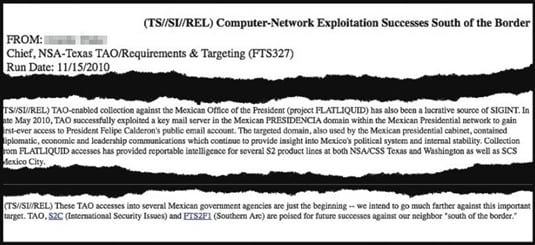 'South of the border, down Mexico way'
"TAO successfully exploited a key mail server in the Mexican Presidencia domain within the Mexican Presidential network to gain first-ever access to President Felipe Calderon's public email account," the partially redacted document states.
The alleged backdoor allowed "diplomatic, economic and leadership communications which continue to provide insight into Mexico's political system and internal stability," states the report, leaked by NSA whistleblower Edward Snowden.
Calderón and the Mexican government have reacted angrily to the news. On his personal Twitter account, the former president said that the NSA's actions were "more than personal, are an affront to the nation's institutions, since they were carried out during my tenure as president of the republic," and called on the Mexican authorities to investigate.
The Mexican foreign ministry has already announced an investigation by the Attorney General and called the actions "unacceptable, illegal." In a statement to the BBC it said "in a relationship between neighbours and partners, there is no place for the alleged practices."
The leak is an embarrassing one for the US, since it is already investigating itself for allegedly hacking the email of current Mexican president Enrique Peña Nieto last summer during his election campaign. Documents slipped to local news television station Fantastico in September showed the NSA had copies of Peña Nieto's email conversations, including discussions about likely ministerial appointments.
The same reports suggested that the NSA had also comprehensively pwned the email accounts of the Brazilian president Dilma Rousseff and some of her aides, as well as those of the state oil company Petrobas.
President Rousseff cancelled a visit to the US in protest and at the recent G20 meetings in Russia, President Obama promised that both hacking reports would be investigated.
"What I got from President Obama was a commitment to a full investigation... and if they turn out to be true to impose corresponding sanctions," said President Peña Nieto at the time. El Reg wonders how this latest report will factor into negotiations. ®