Surface 2 MYSTERY: Haswell's here, so WHY the duff battery life?
Windows slabs still trailing the pack in running time
---
Microsoft's Surface Pro 2 fondleslabs arrive on Tuesday, bringing various improvements over the first-generation models. But one area where the new tablets still don't wow is battery life – and that's a disturbing trend for Windows devices in general, some tinkerers have found.
As hacker Jeff Atwood and AnandTech's Anand Lal Shimpi pointed out on Monday, the Surface Pro 2 averages around 6.68 hours of battery life while browsing the web. That's a 41.5 per cent improvement on the original Surface Pro's 4.72 hours, true. But it's 29.5 per cent less battery life than Apple's iPad 4 and 45.3 per cent less than Google's Nexus 7.
No fair, you say. The Surface Pro 2 is a full Intel PC with a quad-core, 1.7GHz Core i7 processor, while both the iPad and the Nexus 7 are based on power-sipping ARM chips. Of course the Surface will have shorter battery life.
OK, but it so happens that Microsoft has put together some ARM-based tablets, too. You'd think they'd offer markedly better battery life, but no. The original Surface RT offered web-browsing battery life of 6.81 hours – just a hair over what the Surface Pro 2 can achieve today, and just as poor when measured against the competition. And even the latest Surface 2 can only do 8.07 hours, which is still 14.9 per cent worse than the iPad 4 and 34 per cent worse than the 2013 Nexus 7.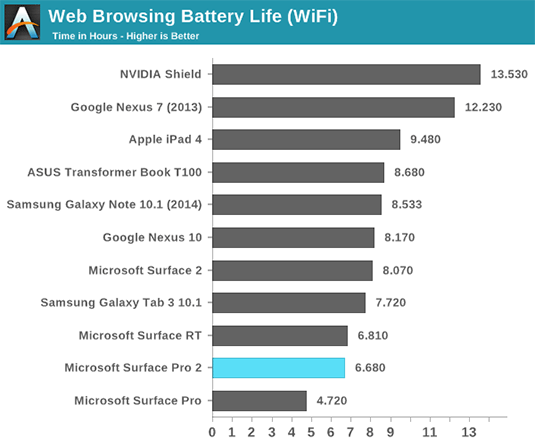 Windows tablets aren't punching their weight where battery life is concerned (Source: AnandTech)
Microsoft describes the Surface Pro 2 as "the tablet so versatile, it's practically a laptop." But as Atwood observes, you can compare the Surface Pro 2 to similar full-featured laptops and its battery life still underwhelms. By way of example, Atwood looked at the 2013 MacBook Air, which he says "spec-wise is about as close as we can get to the Surface Pro 2."
In AnandTech's tests, the 13-inch 2013 MacBook Air scored a web browsing battery life of 14.28 hours, a whopping 113.8 per cent more than the Surface Pro 2. Admittedly, that model's 54Wh battery is larger than the Surface's 42Wh battery. But even the 11-inch model, with its 38Wh battery, lasted 66 per cent longer than the Surface Pro 2.
"That means the Air is somehow producing nearly two times the battery efficiency of the best hardware and software combination Microsoft can muster, for what I consider to be the most common usage pattern on a computer today," Atwood observes.
Atwood then dug back into the AnandTech archives and found where the site had compared a 15-inch 2009 MacBook Pro running OS X 10.5.7, Windows Vista x64 SP1, and Windows 7 RC1. Running OS X, the battery lasted 8.13 hours. Running Vista, it lasted 6.02 hours. Running Windows 7, the time was down to 5.48 hours.
To be fair, the 2009 MacBook Pro weighed 5.5lbs (2.5kg) compared to the Surface Pro 2's 2.0lbs (907g), and its 73Wh battery was nearly twice as big as the Surface's.
But the Surface Pro 2 also ships with a chip based on Intel's "Haswell" microarchitecture, which promised dramatic improvements in power consumption. And a bigger battery doesn't explain why the same hardware should offer so much more running time with OS X than with either of two different flavors of Windows. It's possible that Apple optimized its OS for its own hardware, but Windows has always been designed to run on a wide range of Intel configurations.
So what's happening to make battery life under Windows so lackluster? The simple answer is that nobody seems to know. None of the hardware makers AnandTech spoke to could provide a satisfactory answer – or, for that matter, a Windows box that offered battery life comparable to a machine running OS X.
As Atwood points out, however, none of this bodes well for Microsoft's persistent efforts to position Windows 8 as an excellent OS for tablets, when Windows tablets – including ARM-based ones running Windows RT – consistently seem to offer worse battery life than any of their competitors.
Do Reg readers have any ideas about what's going on? Be sure to leave 'em in Comments. ®