Just HALF of 10m iPhone, Android BlackBerry BBM app downloads activated
Hello? Hello? Is this thing on?
---
Ten million people have apparently downloaded the new BlackBerry Messenger (BBM) app for Android or iOS in just 24 hours. But with activations being metered out in half-million lumps it will be a while before they can all start chatting.
The app, which brings BlackBerry Messenger to Android and iOS gadgets, was launched on Monday, and is apparently topping the Apple App Store chart in 75 countries. In other words, a lot of users are still waiting patiently for the chance to chat to the few who've remained loyal to the BlackBerry platform all this time.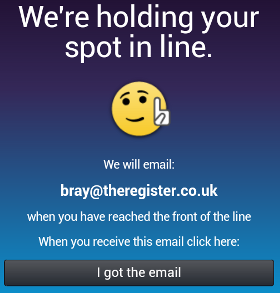 I can hardly contain my excitement
The Canadian biz's Twitter feed is reporting that just over five million folks have now been activated, though we're not among them. Once activated, users will be able to take advantage of what was once one of the most advanced messaging networks in the world.
Even now BBM has group sending and confirmed delivery features, which are lacking from the competition. But with BlackBerry handsets floundering, the company needs to decouple services from devices with all the speed it can, if only to make itself look pretty next time Lenovo comes sniffing around.
Which is why the rollout is being phased so. Ten million downloads shows there's demand for BBM on other platforms, but BlackBerry still has to show it can meet that demand. ®