Canalys Channels Forum HP's CEO Meg Whitman says the company is not just turning around its various messes, but is doing so well it has gleaned sufficient insights into the divine and can build a computer to God's specifications.
That computer is the Z1 workstation, of which blog geekbeat.TV recently said "If God needed a computer, this is the one he would build". Whitman, a former Republican candidate for the governorship of California, was happy to repeat that comment today as she talked up the company's PC range at the at the Canalys Channels Forum in Bangkok, a venue a long way from the USA's conservative heartland. How the comment will go down there is anyone's guess.
Whitman's speech also contained familiar mea culpae as she said prior to her arrival HP's "innovation pipeline was there but was not being commercialised fast enough", leading her to worry that HP "was falling dangerously behind". Worse still, the company had a "cost structure out of line with our revenue trajectory" and "lacked modern tools" to help the company's sales people, and its partners, sell HP products effectively.
"I think we lacked a clear strategy," she added.
"In fiscal 2013 we began to change that, by fixing our balance sheet to reconfirming our commitment to innovation."
Whitman says most of those problems are now behind the company and that the period of diagnosing problems is over, replaced by the initiatives that will fix set things to rights.
The turnaround relies on some themes common to other residents of IT's Olympian heights, with converged infrastructure, big data analytics and servers and networks intended for cloudy consumption advanced as products HP can now offer the market. Some of those products are already doing well: Whitman said 3Par's storage products are all growing at more than 100 per cent a year and its Moonshot servers represent "the next revolution in servers".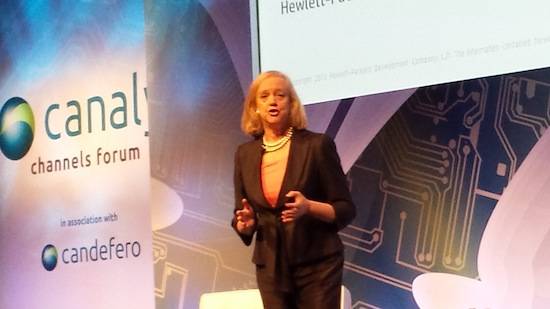 HP CEO Meg Whitman on stage at the Canalys Channels Forum in Bangkok
Whitman's also talking up software-defined networking and data centres, throwing in a small aside by noting that all hardware is effectively defined by software and claiming leadership in the space thanks to the OpenFlow kit it acquired with 3Com.
Employees are now being "revitalised" to help them rebound from recent traumas with "fire in the belly".
Research and development have been improved to the point at which the CEO feels "we are very good" at productising research in a timely fashion.
The balance sheet is looking good, too. "We generated over ten and a half billion dollars of free cash flow and we are now in a near zero net debt position in the operating company," Whitman enthused.
Whitman did not grant The Register the interview we requested, citing the imminent release of financial results as making such an encounter inadvisable. That didn't stop her from revealing an entry to the 3D printer market.
Whitman also revealed a little about her management philosophy and how it will shape HP's future.
"Strategy is as much about the art of exclusion as it is inclusion," she said. "Where are you going to play? What market segments are you going to go after? Everyting begins with market segmentation and where you are going to fight. We can't be all things to all people. We have to decide where we will fight and how we are going to win."
"The second thing is we are only as good as the people on the team. So the right person, in the right job, with the right attitude, is essential. I am constantly evaluating do I have the right team? I own the top 1,000 people at HP. I have to make sure those 1,000 people have the right skills for this time in one of the biggest changes of our industry."
"We have to have people who are flexible and excited by the challenges we face".
Her last observation was that HP's core competency is engineering and that the company must focus on that discipline.
"We are an engineering company at our core and we are amazing with customers. That's wha we are going to double down on." ®