This article is more than 1 year old
LG opts for a Brazilian, lobs out low-powered Firefox OS mobe Fireweb
First gadget to launch with version 1.1 of Moz's phone code
South Korean electronics giant LG has joined the likes of Alcatel, Geeksphone, and ZTE by offering a handset based on the Mozilla Foundation's open-source Firefox OS platform.
The LG Fireweb is not only the first such device from LG, but it's also the first phone from any company to ship with Firefox OS 1.1 preinstalled.
Mozilla released the new version of the OS earlier this month, but so far ZTE has yet to push out an update for its ZTE Open handsets running Firefox OS 1.0 and there's no telling when it will, if ever.
Hardware specs for the LG Fireweb are still sketchy, but from the sound of it, its features are comparable to those of earlier Firefox OS phones. It has an unspecified 1GHz processor by Qualcomm, a four-inch touchscreen at 480-by-320 resolution, a 5Mp camera, 2GB of onboard storage, and it supports 3G data networking.
Other than the slightly larger screen and the higher-resolution camera, those numbers make LG's hardware sound virtually identical to the other Firefox OS handsets on the market, with the exception of the Geeksphone Peak+, which offers more upscale specs.
Mozilla is targeting customers in the developing world with Firefox OS – at least for now – so putting out a device with such relatively lackluster capabilities makes some sense.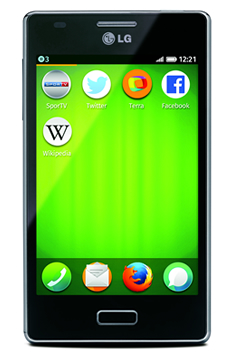 LG Fireweb running Firefox OS 1.1
But even though Mozilla says a slow processor and a small amount of RAM should be enough to run Firefox OS in its current form, El Reg was underwhelmed by the platform on a ZTE Open handset, so it's a bit disappointing to see LG following ZTE's lead so closely.
The first carrier to ship the LG Fireweb will be Spanish telecoms giant Telefónica, which plans to launch the device in Brazil through its Vivo subsidiary. Telefónica has previously shipped Firefox OS devices in Spain, Colombia, and Venezuela, and it says it plans to debut the platform in Peru, Uruguay, and Mexico "in the coming days."
"We intend to offer a totally new experience to the customer at affordable prices," Telefónica Vivo president Antonio Carlos Valente said in a statement, "and where the features and the evolution of the system will be defined by the immense Firefox OS developer community and not for any particular company."
The LG Fireweb will be available from Telefónica Vivo for 309 Brazilian reais ($142) with an unlimited-service contract or in a prepaid, no-contract version for 449 reais ($206). ®