This article is more than 1 year old
New MacBook Pro: What's actually new, here?
If you want Nvidia discrete graphics, go for the 15-incher
The new iPad Air and iPad mini with Retina display weren't the only bits of Apple kit that were revealed at Tuesday's product rollout in San Francisco; there were also upgraded versions of the 13-inch and 15-inch Retina display MacBook Pros to talk about.

Apple's new Haswell-equipped MacBook Pros, 13-incher on the left, 15-incher on the right (click to enlarge)
The most notable upgrade to the laptops is their processors. The 13-inch model now comes standard with a dual-core 2.4GHz Intel fourth-generation Core i5 processor, née "Haswell", while the 15-incher's base-model processor is a four-core 2.0GHz Haswell Core i7. The smaller model can be upgraded to a dual-core 2.6GHz dual-core Intel Core i5, and the larger to a quad-core 2.3GHz Intel Core i7.
The 13-inch MacBook Pro has lost a bit of heft – it now weighs in at 3.46 pounds, down from 3.57 pounds in its previous incarnation. It's also marginally thinner at 0.71 inches, down from 0.75 inches. The 15-incher went on no such diet – it still weighs 4.46 pounds and remains 0.71 inches thick.
The fourth-generation Core processor in the 13-incher has Intel's Iris Graphics, while the 15-incher has Intel's Iris Pro Graphics, both of which The Reg wrote about when Chipzilla's new graphics cores were announced in May. The larger of the two MacBook Pros can also be equipped with Nvidia GeForce GT 750M discrete graphics with 2GB of GDDR5 graphics memory.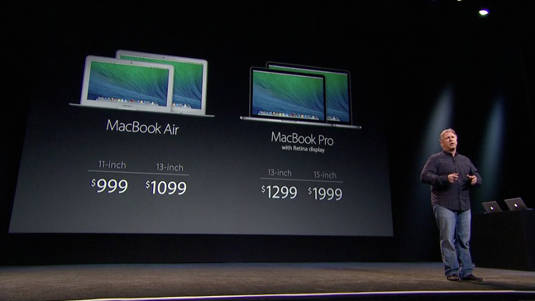 Apple's prices for the base models of its now-fleshed-out MacBook line (click to enlarge)
Apple's marketing lead Phil Schiller, speaking at the rollout event, claims that the 13-inch model now gets up to nine hours battery life. "So if you're a fan of The Black Knight as I am, you can watch the entire trilogy on one charge," he said. The 15-incher's battery life is rated at eight hours.
Both models have been upgraded to PCIe flash, which Schiller claims is 60 per cent faster than "the previous generation." Wi-Fi has been upgraded to 802.11ac (802.11a/b/g/n compatible) in both, and the previous generations' Thunderbolt ports have been upgraded to Thunderbolt 2.
The base model of the 13-inch MacBook Pro runs $1,299, down from $1,499 for its predecessor; the base 15-incher will cost you $1,999, down from $2,199. Both models are available beginning Tuesday. ®