This article is more than 1 year old
Pimp my office: 10 cubicle comforts
Where little things mean so much
Griffin PowerDock 5

Looking more like minimalist toast rack then a tidy tech tray for tablets, phones and PMPs, this charger deals with desktop clutter by housing five devices in a neat rack. While there's not an awful lot to say about it, as the picture speaks those 1000 words here, it's worth noting that each of its five charging ports can output up to 2.1A at 5V. This means that even older power-hungry devices such as the original Samsung Galaxy Tab can get juiced up here.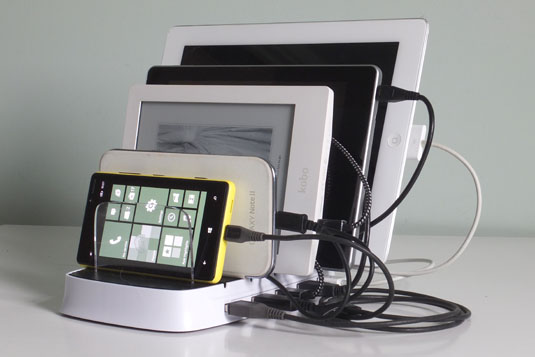 Alas, no charging cable, so when you used to have one for multiples devices here you need one each
Griffin lists a range of compatible devices which appears to be there to calm the not-so-tech-savvy, as there's no doubt it'll work with most things. Certainly, our tests with some unlisted phones – Nokia Lumia 820 and BlackBerry Z10 – worked fine.
The same goes for the Acer Iconia and Kobo Arc and Aura HD tablets tried. The only real moan here is it's not so much a case of BYOD but BYOC – bring your own cable. At £75, you'd have thought Griffin could have bunged some of its unsold 30-pin iOS leads and the odd micro USB cable in there just to get things started.
Kensington SoleMate Plus

So there I was wondering why I had developed a slightly stiff ankle on my perch at Vulture Central. Not especially draughty here and we're not forced to hop on one leg – it's voluntary. Yet by a process of elimination, I worked out it was my seating position: legs stretched out with feet crossed – the lower foot propping up the one on top. This seemed a likely cause. The trouble was it had become a habit, that was really hard to break.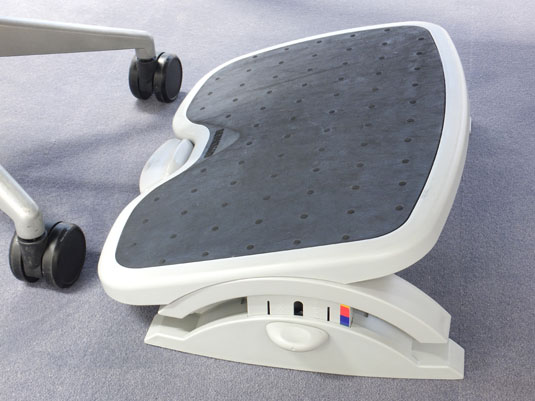 Put your feet up at work: note the colour-coded height adjustment
Enter the Kensington SoleMate Plus. It's just a £50 footrest – less than 30 quid if you shop around online – and it helped break that bad habit. No doubt there are more enduring metal alternatives out there for a price, but this plastic affair with adjustable height and tilt does the job. It's weighty, robust and stays in position. There's also a foot-controlled lock in the base that allows you to adjust the tilt without having to scrabble around on the floor.
Curiously, the instructions have a colour-coded, hand-sized chart that's used to determine the correct height of the SoleMate. This sounds good in theory, but if you've a desk that has a frame construction with protrusions, you might find yourself bashing your knees if it's raised too far. Admittedly, this isn't exactly high tech, but as an office enhancement, a foot rest does make a significant difference, day in, day out.