This article is more than 1 year old
Pimp my office: 10 cubicle comforts
Where little things mean so much
Logitech BCC950 ConferenceCam

As any Skype user knows, you don't need a lot of tech to get a video chat going – just about anything mobile has a facecam and most monitors have one on-board too, these days. It's fine for one-to-one, but try to fit in more folk and you're either jockeying for position or sat so far back you might as well not bother with video anyway.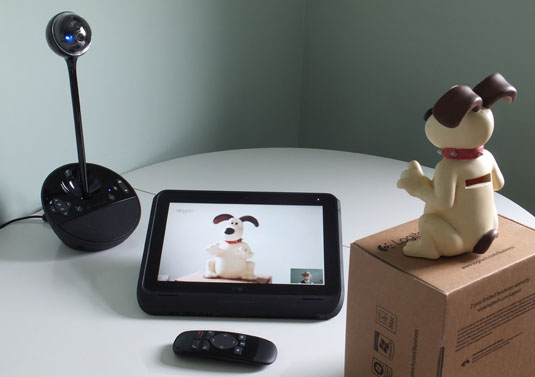 Hooked up to a Mac the BCC950 is seen on an HP ElitePad via Skype
For just the occasional video chat – who needs a telepresence suite when there are significantly cheaper options. Logitech's BCC950 ConferenceCam is a quirky-looking video-conferencing device that features a remote control that operates pan and tilt movements of the camera and zoom too. The remote can tweak volume levels as well as answer, mute or end calls – functions that call also be managed from the base of the unit, where the speakerphone tech resides.
Talking of tech, the on-board H.264 codec avoids taxing the host computer CPU when processing the video, so it can work with just about any old piece of kit – from XP to OS X 10.6. The 1080p camera features Carl Zeiss optics and a 9-point autofocus system, so even if the boss tries to work the visuals like Orson Welles, everyone should stay in focus. As far as the camera quality goes, as always, a lot depends on how well lit the room is. Bright backlighting from windows is going to be a challenge, but you can always zoom in to avoid silhouettes, narrowing that 78˚ field of view.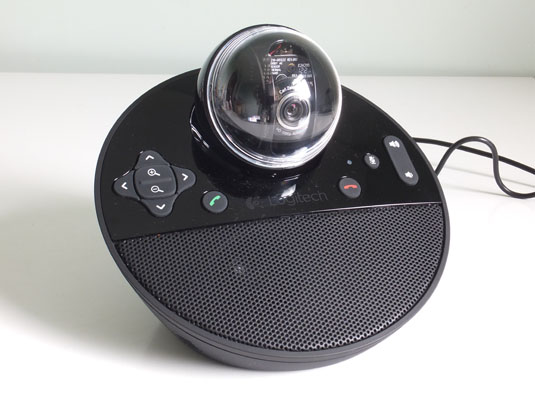 The swivel and tilt mechanism is within the camera ball so it works in compact mode
The 9-inch extender helps to deliver an eye-level chat experience but doesn't have to be configured, as the camera can sit in the base and still benefit from the 180˚ pan and 55˚ tilt positioning. Sonically, Logitech claim it's good for up to 8ft away, although acoustics – room resonances and background noise – will have a bearing here.
Still, the BCC950 ConferenceCam has noise cancelling trickery built-in and sounded pretty good overall and there's a headphone socket too, if needed. USB video class (UVC) compliant it works with just about any self-respecting video conferencing system. Just be sure to install the Skype plug-in or you won't see the image change with the zoom functions.
Luidia e-Beam Edge
Luidia's eBeam range of products is something that has to be seen to fully appreciate. It's not horrendously complicated, but it does operate in more than one way. First off, it provides the means to capture the pen strokes of whiteboard and flip chart scrawl which can then be reviewed from a computer and repurposed. A special colour-coded holder for standard whiteboard felt tip pens communicate the positioning of the coloured pens while a detector on the side of the whiteboard monitors the movements. There's even a companion eraser, so you can wipe away whiteboard mistakes.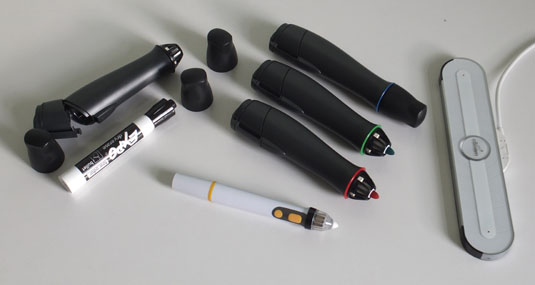 Luidia eBeam Edge with Capture pack pens
A similar set-up takes place when it is all hooked up to a projector, so you can actually write on the projection, but this time not with felt pen but from an interactive stylus that generates lines from within the application in whatever colours you choose. Yes, you can bring up a palette of colours and change mid-stream. With this arrangement remote viewers can see the presentation too and contribute from their own computers. The stylus will even perform as mouse, clicking and dragging content around.
Setting up is fairly straightforward, calibration takes place by clicking the corners of the screen or whiteboard area so the Edge scanner learns the workspace size. Magnetic strips can be used to easily mount the Edge scanner to a stick-on whiteboard.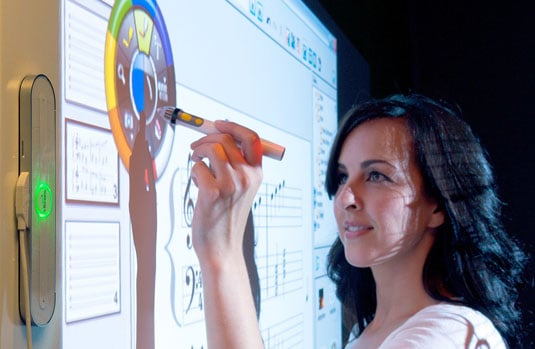 The eBeam Edge tracks the position of specific pens on whiteboards and projection screens
The eBeam has both business and education packages with capture toolsl however, the business edition features the collaborative Workspace software environment which supports the import of Office, Flash and image files and is PC only. The education version is Mac and PC compatible but lacks Workspace. This eBeam kit might seem more appropriate to pimp my boardroom, but if your work involves unpicking brainstorming meetings, then the content captured may well simplify matters.
Price
£699 (USB), £799 (wireless)
More Info
eBeam