This article is more than 1 year old
Pimp my office: 10 cubicle comforts
Where little things mean so much
Octa Tablet Tail Monkey Kit

When I first clapped eyes on this stand with a definite twist, I was surprised to find myself being charmed by its design. I mean, we're talking about a bit of kit to simply hold a tablet in position, after all. It's not exactly news but it certainly has a very neat approach. Described as a monkey's tail, this weighty, bendy rubberised length of heavy duty flex, holds its position when shaped so that it can be raised, lowered or even wrapped around fixtures. A robust suction cup at the business end holds the tablet in place.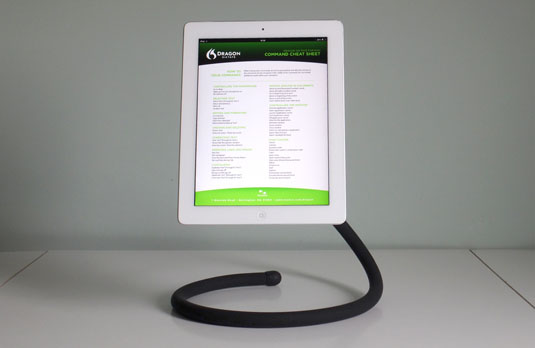 You need to fiddle with the tail flex for short while to learn how to get the balance right
While it's hardly rocket science you can use it to hold a tablet just about anywhere – you can even wrap it around your neck, and have the tablet in front of your Bob Dylan harmonica style, which might be handy for reading or the need for hands-free viewing whilst following some tech info. That said, dock and tail are not exactly light at 840g in total and that's before you attach a tablet. Still this weight does ensure it stays put when place on a tabletop.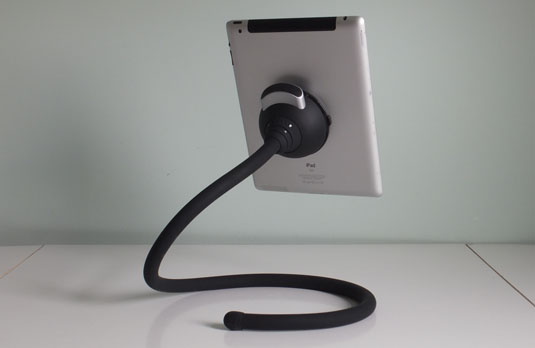 The suction cup section can be removed and used as a basic prop stand if kept stuck to the back of the tablet
Unlike so many prop-me-up tablet stands, this one brings the tablet to you so if you've wandered into a meeting room for video conference with a monkey tail in tow, your telepresence won't be a view or your nostrils any more. Also app or web authors can see their work in the same line of sight as their desktop screens too. Why not have PDF manual loaded into an eBook reader? You could then work out how to get the best from Dragon Dictate from its commands cheat sheet.
Philips 231P4QRYES ErgoSensor monitor

If you're inclined to hesitate about choosing a Philips monitor, then it's probably passed you by that this sector of the brand is actually run by MMD. It's a spin-off company from TPV Technology – the world's largest flat panel producer – that now designs and manufactures Philips TV and display products. As TPV panels are everywhere, it must be doing something right.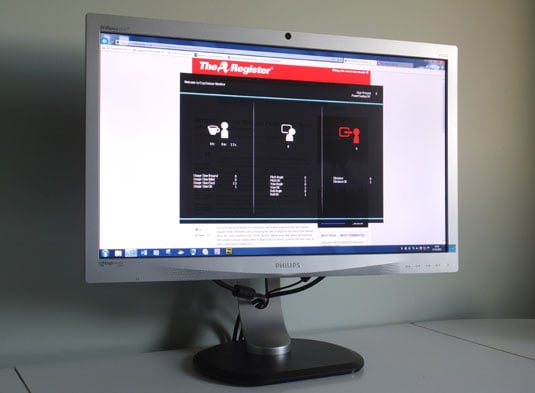 Demo ErgoSensor screen shows the various warnings – click for a larger image
So what we have here is a 1080p monitor with what appears to be a webcam, but is a low-res sensor that enables the display to double as a fitness coach, well sort of. The ErgoSensor's spooky my-tech-is-watching-me aspect, actually implements some well-intentioned ideas. It will nag you to sit up straight, advise on viewing distance and notify you that it's time to take a break. Perhaps the latter will appeal enough to want one on your desk and if you're found idling by the tea room, you can insist you're simply following company policy.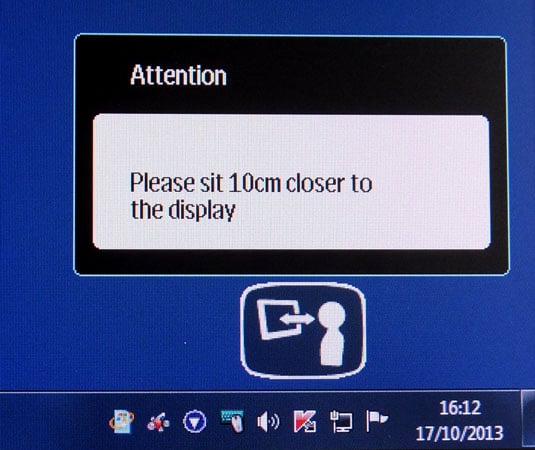 Nag screen? Only momentary warnings appear which are not too distracting
Besides watching you while you work it features an energy saving trick, as the display dims after a minute when you're not at your desk, rather neatly brightening up when you reappear. For longer periods the display blacks out. Talking of energy, at 29W, the new 231P4QRYES 23in IPS panel does consume a bit more power than the 241P4LRYES 24in TFT version's 21.5W, which is still available.
Both feature DisplayPort, DVI and VGA interfacing along with 4 x USB 2.0 ports, audio in/out, 2 x 1.5W speakers and a pivot stand that enables landscape viewing. The speakers are probably the worst feature, sounding bright and thin, akin to laptop. Still, do you really buy a monitor for its speakers?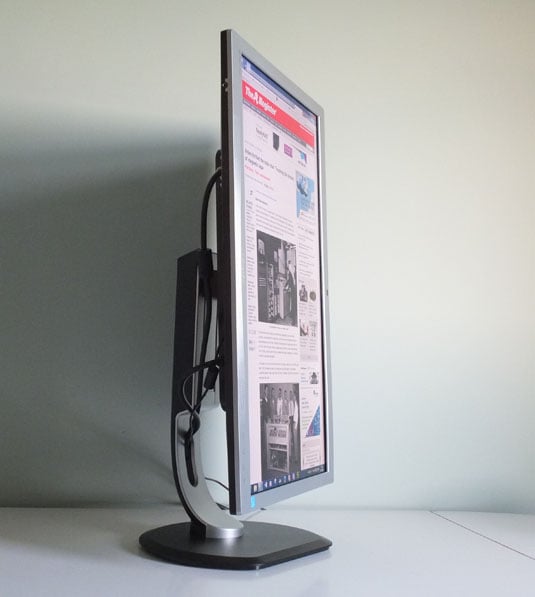 The IPS panel has great viewing angles and a quick turn into portait mode shows no shading artefacts
Philips isn't alone with the ergonomic ideas though, BenQ has implemented similar reminders on some of its models with the BL2410PT taking a best guess as to when you're reading and makes brightness and colour adjustments.
No doubt some of you have 4K in mind for your next display upgrade. LG has a couple of 4K monitors – the 27in 16:9 aspect EA83 (£600) for professionals and the 29in consumer-centric 21:9 EA93 (£400). They might not tell you when it's time for a tea break but they certainly make a big impression.