What's the first Kinetic Ethernet hard drive? Psst, it's the 4TB Terascale
Seagate tears wraps off 2.3PB object-storage monsters
The first direct-access-over-Ethernet Kinetic hard drive is a modified 4TB Seagate Terascale.
The Terascale is a nearline 3.5in disk spinning at 5,900RPM. It swaps the SATA or SAS interface connections for two 1Gbps SGMII Ethernet ports to directly attach to the network. The drives repurpose the standard SAS HDD connector.
A Kinetic Terascale enclosure is a 4U rack shelf holding 60 drives, giving 240TB. The drives plug into receptacles connected to a circuit board. A full rack will be a JBOK (Just a Bunch of Kinetics) with ten 60-drive enclosures (ie, 600 drives in all) giving a total of 2,400TB, underneath a top-of-rack Ethernet switch.
Seagate reckons this is 1,680TB more than a standard full JBOD (Just a Bunch Of Drives) storage rack can offer today, assuming one's built from four 2U storage servers and a 1U blade server, leaving space for 480 drives.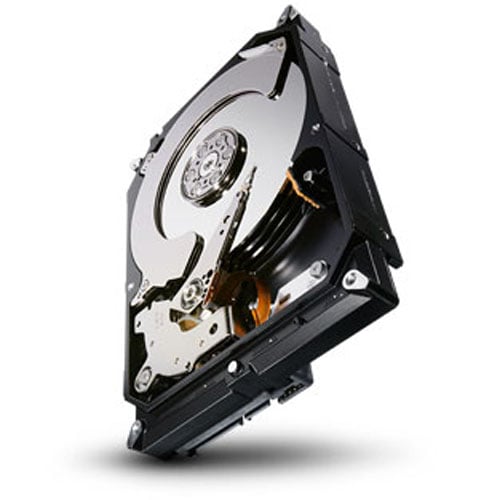 The Kinetic Terascale
Interestingly enough, Kinetic drives can store data as objects accessed using key-value pairs, which abstracts away the lower levels of the drive's workings; first-generation disks can handle keys up to 4,096 bytes in size, meaning there are more than 109864 possible keys.
The first Kinetic drive should become available in mid-2014, says Seagate. A question: how will Western Digital (and its HGST wing) and Toshiba react to Seagate's Kinetic drive push? Will they ignore it, reinvent it or simply adopt the storage system?
For more information on the tech and its design, check out the Kinetic Open Storage Documentation Wiki. ®