Amazon's cloud cash pile dwarfs Microsoft and Rackspace's best efforts
You just won't believe how many people love Jeff's Virtualization Palace
Amazon reported record revenues from the "other" category of its earnings on Thursday, showing strong growth in its cloud division and highlighting the stranglehold it has on the virtualized compute and storage market.
The $1.011bn in cash that flowed through "other" in the third quarter of 2013 towers above the previous quarter's $892m.
"Other" bundles cash made in the Amazon Web Services cloud along with income from advertising and a few fringe product segments.
Advertising is predicted to bring in some $835m for the whole of 2013, so it's safe to assume that Amazon Web Services raked in somewhere above $800m for the quarter.
Compare this with Microsoft's baffling claim earlier in the year that Azure is a billion-dollar business when measured on an annual basis, or the $99m in public cloud revenues that Rackspace booked in its most recent quarter, and it becomes clear that not only is Amazon raking in the cloud cash, but in terms of revenue it dominates the industry.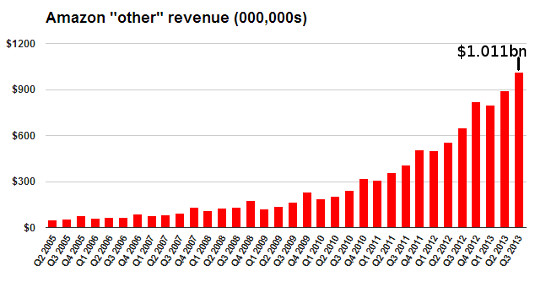 Amazon: like other clouds, but making five times as much money
What's more, the bigger Amazon gets the more telemetry it gains on how people are using its cloud and what features it must introduce to keep punters happy. Any company that tries to compete on a feature-for-feature basis with Amazon comes from a bad position because it lacks this mass of information – excluding Google, of course, due to the size and technical excellence of the Chocolate Factory's internal systems.
That's why Microsoft is pushing on with its hybrid cloud vision of Azure – something that Amazon lacks expertise in – and why Rackspace is trying to spin-up services that Amazon lacks, such as micro-VMs from its recent acquisition ZeroVM.
For now, the infrastructure-as-a-service market is defined by Amazon, and with this quarter's earnings taking "other" to more than $2.5bn for the year so far, we've upped our El Reg estimate on full-year "other" earnings from $3bn to $3.7bn. ®