Meet Surface 2, Lumia 2420, Surface 2420, er....
That's because the Pro runs existing Windows apps thanks to the fact it uses that Haswell chip from Intel, unlike Surface 2 that uses ARM.
Further, things are about to get awfully confusing for Surface 2. That's because Nokia this week launched the Lumia 2520 also on ARM and also packing the same version of Windows 8.1 for that chipset – Windows RT. Nokia is the only company outside Microsoft to offer a Windows RT tablet.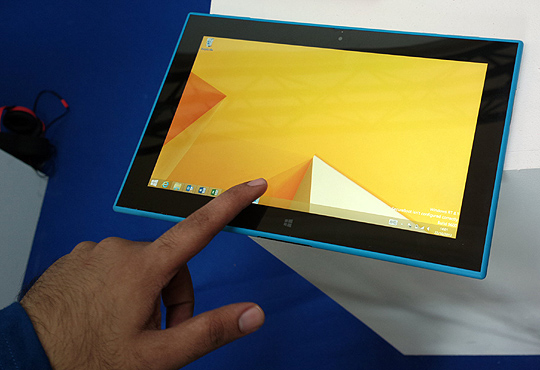 Which should users pick? It's not clear. Compare the specs from Nokia and Microsoft here from All-About-Microsoft's Mary-Jo Foley and you'll see there's not an awful lot to chose between them. Asked to justify Surface 2 versus the Lumia 2520. Epstein told us simply it had: "A great user experience, all day battery life, great performance."
Life for Surface 2 the Lumia 2520 will become difficult once Microsoft's purchase of Nokia is closed as Microsoft is unlikely to sell similar products. As one Twerp noted on the Surface 2 and Lumia 2520 news:
New today: Surface tablets with Windows 8.1. Not to be confused with today's Windows 8.1 tablet from Nokia. Which soon will be Microsoft.

— Shira Ovide (@ShiraOvide) October 22, 2013
That's where software and services are being used to crowbar some difference between the Microsoft and the Apple camp.
Surface 2, like Surface RT, comes with a tailored version of Office 2013 Microsoft tells us is for teachers and people running their home lives though Excel or Word when they've done a bit of browsing.
Now, however, you also get 200Gb Skydrive storage for two years and a year's free Skype calling. Epstein called his evidence of the fact Microsoft is working in a more coordinated way on Surface than a year back.
The problem is, Apple is also packing in the software: the iPad Air will come with free versions Apple's latest iWork and iLife personal productivity and media apps.
It's therefore looking like price will be the thing that separates winners from losers in this quarter's land grab, and it's on this basis that Android will set down roots to become the mass-market winner.
Are you sure it's the lack of products, Apple?
Apple's iPad sales have been falling: they were down in the June quarter by between three and 14 per cent - depending on how you calculate your numbers - a fact that Apple blamed on a lack of new products to tempt shoppers.
A year earlier, sales were kicked up by the iPad 3 with Retina display. In the run up to Christmas, Apple now has the iPad Air and new Mini – so we can expect growth but you should also expect a drop after the initial bubble. Worse, Apple shows no appetite for cutting prices to continue its momentum.
The iPad's market share, meanwhile, has fallen to 43.1 per cent in the fourth quarter of 2012 from 51.7 per cent in 2011, according to analyst IDC.
Over at Microsoft, it's not looking like the company can stimulate - or even benefit - from a dash-for-Africa-style land grab.
Consumer interest is lacking with shoppers staying away from the Microsoft shops in droves. Early reviews of the new hardware features are lack luster. For all that, Microsoft doesn't have enough Surfaces in stock to assault the market, with just 2,000 units for the UK in a market where resellers are used to handling tens of thousands each quarter.
Instead, Epstein said Microsoft would overcome lack of interest by getting its message out. He reckoned Microsoft is spending tens of millions of dollars on advertising, marketing and partner training for Surface 2 and Windows 8.1. It is a "significant" marketing investment, he said.
Like Apple, Microsoft is not compromising on price: Surface Pro 2 starts at £719 and goes up to £1,439 and Surface 2 runs between £359 and 3439. Those are very Appley prices: the WiFi version of the iPad Air is priced between £329 and £739 while Epstein expects the sweet spot for Pro will be the 128Gb version priced £799 versus £639 for the 128Gb WiFi-only iPad Air.
We don't want the cheapskates - but they want you
Neither does Epstein believe somebody in the market for a cheap Android tablet will be the kind of customer who buys a Surface. Yet, he also argues Surface should be your one mobile device - for browsing, gaming working and reading. The idea is you buy one Surface rather than lots of tablets or readers.
But, while Microsoft tries to be Apple on price and "quality experience" its the Android units that are winning the scramble for Africa.
In the latest departure, UK retailers Tesco and Argos have released Android tablets: the 16GB Tesco Hudl starts at £119 and Argos' 8GB Android Bush starts at £99. They lighter than the tablets from Microsoft and Apple and confirm to the new 7-inch screen size Gartner is is now canibalising tablets. As for services, they are hooked into Google's App Store, Docs and Gmail, with devices getting served up online ads thanks to Google.
Yes, the new class of tabs coming from the Tescos and Argoses of this world are weaker on product specs than Apple's iPad or Microsoft's Surface. And, yes, there's no guarantee they will last longer than a turkey drumstick on Boxing Day either in terms of product durability or long-term consumer interest.
The problem is more money and market share that could have gone Microsoft's way is going to Android. The fact it's no longer the Samsungs of this world but high-street retailers offering Android devices should worry Microsoft and Apple, because it proves just how viral Android has become.
More Android devices means more power to Google, too. It means more end points sending more individuals' data into the Google cloud and means more ads for Google to serve to mobile users through new types of devices.
If tablets go like smartphones, then that should worry anybody who can't compete on piece and claims they're selling a "quality experience" instead. ®
Sponsored: Ransomware has gone nuclear