Google's Safe Browsing technology is blocking access to PHP.net as a precaution, after apparently detecting that some of its pages were booby-trapped with links to malicious software.
The move put warning blocks in the way of accessing a site that's widely used by web developers. Google didn't specify the types of Trojans associated with the apparent attack but it did state the domains they came from.
Of the 1513 pages we tested on the site over the past 90 days, 4 page(s) resulted in malicious software being downloaded and installed without user consent. The last time Google visited this site was on 2013-10-23, and the last time suspicious content was found on this site was on 2013-10-23.

Malicious software includes 4 trojan(s). Malicious software is hosted on 4 domain(s), including cobbcountybankruptcylawyer.com/, stephaniemari.com/, northgadui.com/.

3 domain(s) appear to be functioning as intermediaries for distributing malware to visitors of this site, including stephaniemari.com/, northgadui.com/, satnavreviewed.co.uk/.
The warning was brought to The Register's attention after we received emails from several readers noting the issue.
PHP is an open source web development language used on millions of websites, including those powered by the popular Wordpress and Joomla suites.
Users visiting the PHP.net site using Google Chrome, Mozilla's Firefox and or Apple Safari (Mozilla and Apple both license Safe Browsing from Google) were confronted by a warning firmly instructing them not to proceed any further.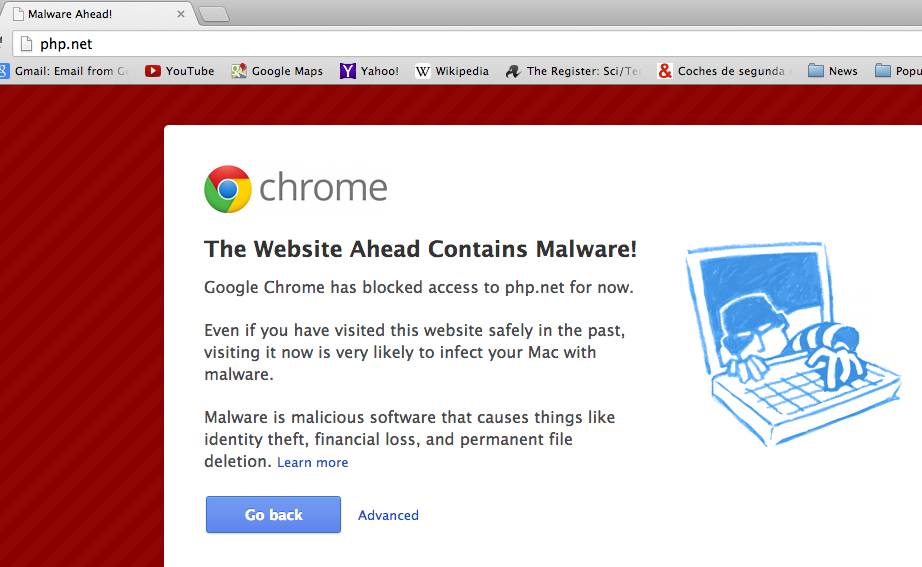 ®
Similar topics