This article is more than 1 year old
Rackspace hurries out 'Solum', a half-formed platform cloud project
OpenStack feature-creep takes hold in anti-Amazon land
Second-tier cloud operator Rackspace has launched yet another OpenStack project, this time seeking to tear up the nascent platform-as-a-service market.
"Project Solum" was announced by Rackspace architect Adrian Otto on Wednesday and sees his company - along with partners eBay, RedHat, Ubuntu, dotCloud, and Cloudsoft and Cumulogic - pour resources into the development of a platform-as-a-service (PaaS) system for OpenStack.
How much code or expertise any of the aforementioned companies barring Rackspace are committing was unclear at the time of writing, given Red Hat operates its own platform-as-a-service, and dotCloud has teamed up with both Red Hat and CloudFoundry on its Docker containerization technology.
Project Solum is an open-source project that will be designed to: ease portability between public and private clouds; simplify application lifecycle management across developer, test, and production environments via OpenStack plugin Heat's orchestration tools; and build in support for Git, continuous integration, and various developer environments such as Eclipse, IntelliJ, Komodo, and others, according to the announcement.
As of Wednesday, the project is as ambitious as it is incomplete, aka: very.
The grab-bag of technologies and alliances amounts to OpenStack's best answer to the types of automated runtime environments present in other platform-as-a-service things such as Pivotal's Cloud Foundry and, to a lesser extent, Red Hat's OpenShift.
"We have customers continually seeking further help in structuring and automating how they develop, deploy, and manage their cloud applications," Rhett Dillingham, Rackspace's director of product management, told The Register via email.
"We found shared interest amongst other OpenStack contributors in addressing needs above and beyond Orchestration and have started open community design on Solum as a natively OpenStack project oriented towards enabling providers and users of OpenStack to benefit from more application management capability without having to stand up services overlapping with their OpenStack capabilities."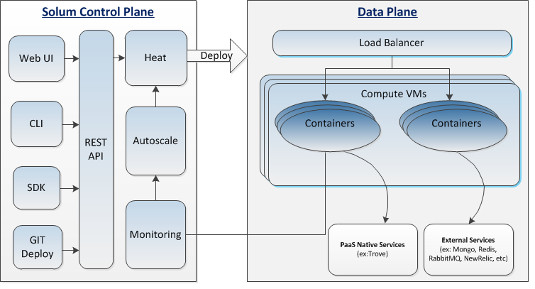 Project Solum: Like other PaaSes in every way, but with more OpenStack fluff
"Solum is natively designed for OpenStack clouds and leverages numerous OpenStack projects, including Heat, Keystone, Nova, Trove, and more," an OpenStack FAQ document reads. "Multiple language run-time environments will be supported with a modular 'language pack' solution so you can easily run applications written in any language of your choice."
Rackspace has developed an "experimental prototype" of the system, the FAQ states, "but project Solum is being started from the ground-up as an open design with all code coming from community contributors."
Translation: the prototype wasn't very good but someone at Rackspace was keen to get this project out in the open and draw on the further technical resources of the OpenStack community.
A Solum roadmap says the plan is for the project to have high availability through a distributed placement of load-balanced code containers, an online developer sandbox, an online IDE, network isolation, and support for background and scheduled jobs.
But all of that is very, very far away; as the project is still pre-version 0.1, its features will be very basic, according to its roadmap.
Solum is yet another example of both the proliferation of new projects within OpenStack, and also the pie-eyed enthusiasm with which the community goes after developing new features, plugins, and capabilities while letting core components of the service, such as networking, remain critically unstable.
One possible motivation for the project could be whispers we've heard that Rackspace is none too happy with all the press Pivotal-backed Cloud Foundry is getting, and needed to pump out a passable PaaS of its own. ®