This article is more than 1 year old
Samsung GROVELS ABJECTLY to Chinese state media
It's 'CCTV', but not as you know it
Samsung has apologised to China following an investigation by amusingly-named state telly channel CCTV, showing the South Korean firm's deference to the world's biggest market.
The problem outlined on the programme appears to affect Samsung models including the Galaxy S3 and Note 2, apparently damaging the storage memory controller (eMMC) chip. Instances are rare, but repairs should come under warranty.
There's an unofficial app to test for vulnerability, but CCTV broadcast a half-hour investigation which has provoked a media storm and prompted the apology.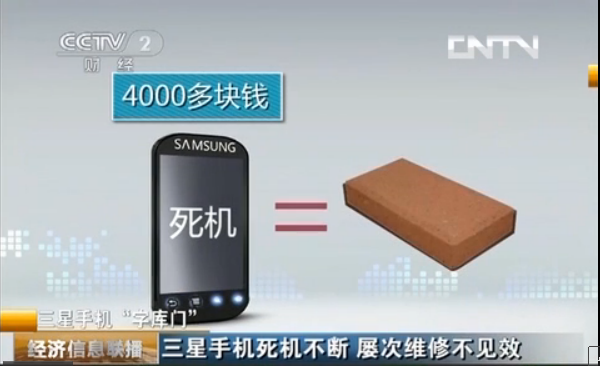 CCTV shows what's in store for Samsung, with pictures for the hard of thinking
That apology is in Chinese, but Google Translate tells us Samsung hopes an over-the-air update will fix most of the problems, and that it will refund anyone who paid for a repair which should have come under warranty - CCTV having gathered evidence of some people being charged for the fix.
Samsung will also give a full refund to anyone whose phone is still failing after two repairs, and will extend the warranty for a year just to make sure everyone is covered. But it's the apology itself which is most important as Samsung demonstrates its willingness to do business in China.
Tech In Asia puts the point most succinctly:
"CCTV has blown a minor defect way out of proportion."
Neither is it the first time CCTV has been used to bully foreign brands, with its investigation into unfair practices by Apple (offering repairs in China, while it replaces faulty goods in Western shops) prompting an apology from Tim Cook himself.
Samsung's apology isn't signed, but the message is clear: "We are very keen to do business in China, and if that means bending like a willow, then that's what we'll do." ®