Is it barge? Is it a data center? Mystery FLOATING 'Google thing'
Yarr, there be a treasure trove of clues pointin' to Mountain View
Pic Google may be constructing a floating data center on a large barge in the San Francisco bay.
The multistory structure was spotted on a vessel moored off the city's Treasure Island, and some shoe-leather reporting by Cnet suggests the web advertising giant is behind the project.
Google patented a design for a floating data center in 2008, and planned to use seawater in its heat exchange and perhaps even for powering the structure as well.
Now, it seems, the company is pushing on with this design and appears to be stacking a bunch of containerized bit barns on a barge in the bay.
A mysterious company named By and Large LLC took a lease on Hangar 3 on Treasure Island and began a major project last year. A phone number associated with the company redirects to an inactive line at Google, according to Cnet. Some individuals with Google badges have also been seen visiting a cafe on the island and paying with Google-branded credit cards as well, we're told.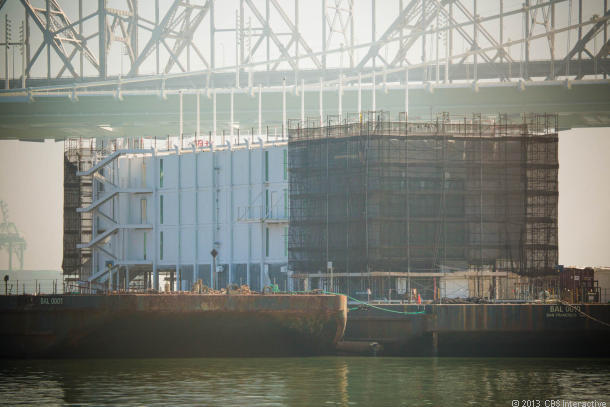 Credit: An investigative report says Google is behind what appears to be a floating bit barn. James Martin/CNET
Some skeptics may point out that seawater can cause problems for cooling, but we'd note that Google's state-of-the-art data center in Finland uses seawater for cooling. This will have given Google several years of data to use to spot problems and hone its seawater strategy.
Another potential issue will be shuttling data in and out of the floating byte bucket, but since Google owns a world-spanning fibre-optic cable it could theoretically tap its ocean-bound facility into this.
Floating data centers will give Google the ability to quickly migrate large amounts of compute resources to locations in urgent need of bit-crunching, or even allow it to float compute clusters around the world to lower latency for info-hungry areas.
At the time of writing, Google had not responded to a request for a statement by El Reg. ®