Feature How will Europe lift itself out of current and future economic woes - and help save the planet while it's about it? According to chip giant Intel, with hi-tech carrots rather than government sticks.
So said the head of Intel's European R&D operation, Martin Curley, this week at the chip company's European Research and Innovation Conference – Eric to its friends.
It's easy to be cynical about such a message, especially given the number of business book buzzwords that were tossed around alongside it - "new innovation paradigm", "quadruple helix innovation", "full spectrum innovation" – Intel is very keen on the "i" word, it seems – and the involvement of so many talking-shop Eurocrats.
But for once the old notion that the only thing that can solve the world's problems is technology – on which theme Intel's "Plan C", as Curley calls it, is a variation – comes with some positive preliminary results to back it up.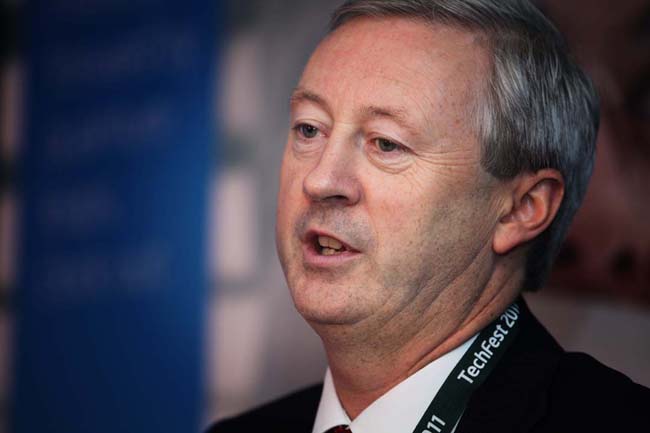 Intel's Martin Curley: urban worrier?
Two of Intel Labs' key endeavours highlight the way forward, in the company's view: the move to connect every device into a single, networked data source – the so-called Internet of Things – and the development of the exascale, 1018 floating point operations per second computing capability that's going to be needed to crunch the many numbers all these devices will generate.
It's this kind of technology that will enable what Intel calls "Sustainable Intelligent Systems", setups able to measure the digital consequences of all our lives and able to act upon it intelligently for our benefit and that of the environment. They will operate within the home and the community.
But as humankind is primarily an urban animal – as a species, it won't be long before nearly three-quarters of us inhabit a built-up environment, notes Curley. And it is this environment where most of the world's financial growth originates: this is why it makes sense to view the city as the prime environment for these SISes, he argues.
Cities are where the money is too: they already generate more than 80 per cent of the world's GDP, and Arup, a consultancy, reckons the market for smart-city systems will be $408bn by 2020. Intel understandably wants a part of that action.
Smart city = sustainable city?
If there's a sense of "what's good for Intel is good for Europe" about Curley's programme, that's because that is partly what the plan is all about. Intel is in the business of selling processors, and we're going to need a lot more of them if we're to equip so many, many more gadgets with the ability to record and transmit data, not to mention to process that data once it's collected.
Intel's silicon already lies at the heart of the digital economy, even if ARM is causing it some bother on the periphery, and Plan C's emphasis on using SISes to bring even more "analogue" resources into the digital domain, because it's most sustainable - to "take IT and substitute it for other resource used in society", as Curley puts it - can only expand that coverage.
Intel's vision isn't entirely fuelled by hubris, or by the desire to sell more microprocessors. Curley believes that digital technology can make the world a better place - and not simply by giving the population of rich and developing nations more shiny toys to play with. The application of SISes to establish closed-loop control systems can have a very positive impact on the environment (in its broad sense) in which we live.
Work has already begun exploring how the Internet of Things and Exascale Computing are going to benefit not just society but the individuals who make it up too.