This article is more than 1 year old
Play Elite, Pitfall right now: Web TIME PORTAL opens to vintage games, apps
From VisiCalc to E.T., Internet Archive runs classics in your browser
The Internet Archive has unveiled a new Historical Software Collection that enables visitors to experiment with vintage software from the era of 8-bit computing right within their browser windows.
The collection includes such prototypal productivity software as VisiCalc running on an emulated Apple //c and WordStar 2.26 running on an emulated Osborne 1, each reproduced with absolute fidelity to the lo-fi text displays of the period.
But most visitors will be interested in the games. The archive offers such groundbreaking titles as 1980's Akalabeth, the first game by future Ultima impresario Richard Garriott; Dan Gorlin's 1982 classic Choplifter; space trading game Elite running on the ZX Spectrum; and the much-beloved Pitfall for the Atari 2600 console, among others.
"Many of these software products were the first of their kind, or utilized features and approaches that have been copied or recreated on many programs since," the archive's maintainers explain.
On the other hand, others were just mostly forgotten, and for good reason. Among the Historical Software Archive's several gems are a few duds – most notably the much-reviled E.T. the Extra-Terrestrial for the Atari 2600, which has been widely derided as the worst video game ever made.
What makes it possible to launch and run these games from within modern web browsers is JSMESS, a port of the Multi Emulator Super System (MESS) to JavaScript.
JSMESS is not directly affiliated with the MESS project, but its developers have made extensive use of the Emscripten compiler maintained by Mozilla's Alon Zakai to translate MESS's native C source code into JavaScript. This is the same tool that Mozilla used to create its BananaBread in-browser 3D gaming demo.
The Internet Archive says its implementation of JSMESS should work on Chrome, Firefox, Internet Explorer, and Safari (though it didn't specify versions), and in El Reg's tests using a current Chrome build, the browser-based emulator worked well. Some of the software ran a little slowly, true; but if anything that's an accurate representation of how it ran on the single-digit-megahertz processors of the day.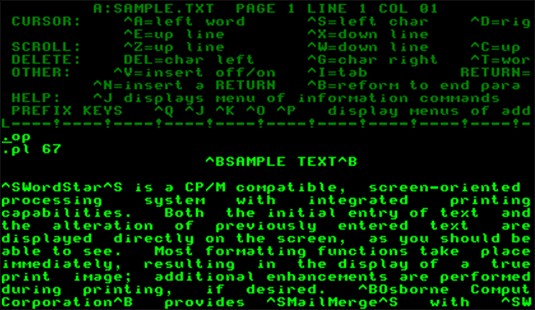 It wasn't all fun and games in the old days. Click the above to launch WordStar on an emulated Osborne 1
"Turning computer history into a one-click experience bridges the gap between understanding these older programs and making them available in a universal fashion," the Internet Archive's Jason Scott explained in a blog post. "Acquisition, for a library, is not enough – accessibility is where knowledge and lives change for the better."
The archive says it plans to continually add to its Historical Software Collection as new titles become available. You can browse the full collection via this link. ®